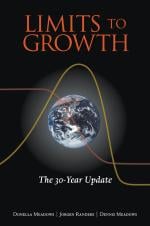 Like this book? Digg it!

Book Data
ISBN: 9781931498586
Year Added to Catalog: 2004
Book Format: Paperback
Book Art: graphs, flow charts, bibliography, index
Number of Pages: 6 x 9, 368 pages
Book Publisher: Chelsea Green Publishing
Old ISBN: 193149858X
Release Date: May 1, 2004
Web Product ID: 10
Limits to Growth
The 30-Year Update
"Not everything bears repetition, but truth does--especially when both denied by entrenched interests and verified by new information."

—Herman E. Daly, former senior economist in the Environment Department of the World Bank and Professor School of Public Affairs University of Maryland
In 1972, three scientists from MIT created a computer model that analyzed global resource consumption and production. Their results shocked the world and created stirring conversation about global 'overshoot,' or resource use beyond the carrying capacity of the planet. Now, preeminent environmental scientists Donnella Meadows, Jorgen Randers, and Dennis Meadows have teamed up again to update and expand their original findings in The Limits to Growth: The 30 Year Update.
Meadows, Randers, and Meadows are international environmental leaders recognized for their groundbreaking research into early signs of wear on the planet. Citing climate change as the most tangible example of our current overshoot, the scientists now provide us with an updated scenario and a plan to reduce our needs to meet the carrying capacity of the planet.
Over the past three decades, population growth and global warming have forged on with a striking semblance to the scenarios laid out by the World3 computer model in the original Limits to Growth. While Meadows, Randers, and Meadows do not make a practice of predicting future environmental degradation, they offer an analysis of present and future trends in resource use, and assess a variety of possible outcomes.
In many ways, the message contained in Limits to Growth: The 30-Year Update is a warning. Overshoot cannot be sustained without collapse. But, as the authors are careful to point out, there is reason to believe that humanity can still reverse some of its damage to Earth if it takes appropriate measures to reduce inefficiency and waste.
Written in refreshingly accessible prose, Limits to Growth: The 30-Year Update is a long anticipated revival of some of the original voices in the growing chorus of sustainability. Limits to Growth: The 30 Year Update is a work of stunning intelligence that will expose for humanity the hazy but critical line between human growth and human development.

US Orders Only.
International Orders: Click here.
Additional Information
Jorgen Randers's Upcoming Events
Jorgen Randers at BI-Nydalen


, Oslo, Norway

May 23, 2013, 12:00 pm

Jorgen Randers at the Global Green Growth Institute


, Seoul South Korea

June 10, 2013, 12:00 pm

Jorgen Randers at Nikkei Business Publications, Inc.


, Tokyo Japan

June 12, 2013, 12:00 pm

Jorgen Randers at Nutreco N.V.


, den Haag, Netherlands

June 18, 2013, 12:00 pm

Jorgen Randers at System Dynamics Society


, Boston Mass

July 22, 2013, 12:00 pm