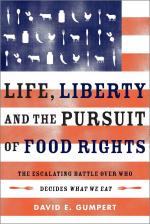 Like this book? Digg it!

Book Data
ISBN: 9781603584043
Year Added to Catalog: 2012
Book Format: Paperback
Dimensions: 6 x 9
Number of Pages: 280
Book Publisher: Chelsea Green
Release Date: May 29, 2013
Web Product ID: 727
Life, Liberty, and the Pursuit of Food Rights
The Escalating Battle Over Who Decides What We Eat
Foreword by Joel Salatin
"The 18th century was the century of political rights; the 19th century was the century of women's rights; the 20th century was the century of civil rights. The challenge of the 21st century will be the struggle for food and farming rights. Thanks to the work of David Gumpert in chronicling this ongoing battle, we have a roadmap for establishing the right to access the foods of our choice. Life, Liberty, and the Pursuit of Food Rights is highly recommended for anyone interested in family farms and nutrient-dense food."

—Sally Fallon Morell, president, The Weston A. Price Foundation
Do Americans have the right to privately obtain the foods of our choice from farmers, neighbors, and local producers, in the same way our grandparents and great grandparents used to do?
Yes, say a growing number of people increasingly afraid that the mass-produced food sold at supermarkets is excessively processed, tainted with antibiotic residues and hormones, and lacking in important nutrients. These people, a million or more, are seeking foods outside the regulatory system, like raw milk, custom-slaughtered beef, and pastured eggs from chickens raised without soy, purchased directly from private membership-only food clubs that contract with Amish and other farmers.
Public-health and agriculture regulators, however, say no: Americans have no inherent right to eat what they want. In today's ever-more-dangerous food-safety environment, they argue, all food, no matter the source, must be closely regulated, and even barred, if it fails to meet certain standards. These regulators, headed up by the U.S. Food and Drug Administration, with help from state agriculture departments, police, and district-attorney detectives, are mounting intense and sophisticated investigative campaigns against farms and food clubs supplying privately exchanged food—even handcuffing and hauling off to jail, under threat of lengthy prison terms, those deemed in violation of food laws.
Life, Liberty, and the Pursuit of Food Rights takes readers on a disturbing cross-country journey from Maine to California through a netherworld of Amish farmers paying big fees to questionable advisers to avoid the quagmire of America's legal system, secret food police lurking in vans at farmers markets, cultish activists preaching the benefits of pathogens, U.S. Justice Department lawyers clashing with local sheriffs, small Maine towns passing ordinances to ban regulation, and suburban moms worried enough about the dangers of supermarket food that they'll risk fines and jail to feed their children unprocessed, and unregulated, foods of their choosing.
Out of the intensity of this unprecedented crackdown, and the creative and spirited opposition that is rising to meet it, a new rallying cry for food rights is emerging.

US Orders Only.
International Orders: Click here.
David E. Gumpert's Upcoming Events
David Gumpert at Blue Moon Evolution Restaurant


8 Clifford St, Exeter NH

June 24, 2013, 7:00 pm

David Gumpert at SolarFest 2013


, Tinmouth VT

July 12, 2013, 12:00 pm

David Gumpert at NOFA-MA Summer Conference


, Amherst MA

August 9, 2013, 12:00 pm

David Gumpert at the Mother Earth News Fair


Mother Earth News Fair, Seven Springs PA

September 20, 2013, 12:00 pm

David Gumpert at 2013 Weston A. Price Wise Traditions Conference


, Atlanta GA

November 8, 2013, 12:00 pm