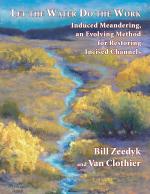 Like this book? Digg it!

Book Data
ISBN: 9781603585699
Year Added to Catalog: 2014
Book Format: Paperback
Dimensions: 8.5 x 11
Number of Pages: 272
Book Publisher: Chelsea Green
Release Date: April 21, 2014
Web Product ID: 804
Also in Nature & Environment
Let the Water Do the Work
Induced Meandering, an Evolving Method for Restoring Incised Channels
"A humble yet powerful method for working effectively with water systems is explained in an easy-to-use manual format. The [authors'] aim is to empower people, groups, and organizations to begin to address significant water challenges, and to create the healthy and vibrant water communities and landscapes that everybody desires. "Importantly, the method and strategies are explained in a way that they can begin to be used immediately with positive results by anyone who cares about water in their landscape. At the same time, for teams or individuals who have such skill sets and are eager to put them to work, all of the scientific detail and precision math of stream-dynamics engineering are also given for practical use. . . . Truly one-stop shopping to tackle a hands-on stream-restorative project at almost any scale. "If you are a land owner, student of ecology, restoration, or water, rancher, natural resource agency, watershed health group, fisherman or water recreationist, ecological consultant, university, wildlife promoter, or just an active lover of life and want to know more about how you can help enlarge life's most critical resource in a simple and hands-on way, this book needs to be in your library. Better yet, take it out in the field with others and let the meanders flow! Working together with our water to create more system health gives our land, our farms, and our communities the gift of more stability and resilience and a surer future."

—Owen Hablutzel, Permaculture whole systems design and holistic-management certified educator
Let the Water Do the Work is an important contribution to riparian restoration. By "thinking like a creek," one can harness the regenerative power of floods to reshape stream banks and rebuild floodplains along gullied stream channels. Induced Meandering is an artful blend of the natural sciences – geomorphology, hydrology and ecology – which govern channel forming processes. Induced Meandering directly challenges the dominant paradigm of river and creek stabilization by promoting the intentional erosion of selected banks while fostering deposition of eroded materials on an evolving floodplain. The river self-heals as the growth of native riparian vegetation accelerates the meandering process.
Not all stream channel types are appropriate for Induced Meandering, yet the Induced Meandering philosophy of "going with the flow" can inform all stream restoration projects. Induced meandering strives to understand rivers as timeless entities governed by immutable rules serving their watersheds, setting their own timetables, and coping with their own realities as they carry mountains grain by grain to the sea.
Anyone with an interest in natural resource management in these uncertain times should read this book and put these ideas to work.