In the Media
Campus Progress
July 21, 2009
Governor Howard Dean joined Campus Progress on July 21 for a discussion on the latest in the health care debate and how to separate the real facts from the false rhetoric aimed at blocking reform.
---
KUOW.org
Weekday
Howard Dean and Health Care Reform
07/22/2009 at 9:00 a.m.
Say you have a fatal form of liver cancer. You have six months to live. You might be able to extend your life by six months with a treatment that costs $60,000. Should that treatment be covered by your health insurance even if it raises everyone else's premiums? What if the treatment costs $100,000? Most people agree that some sort of health care rationing is necessary to control costs. How much is too much? How much is not enough? Today on "Weekday" we'll speak to former presidential nominee Howard Dean, and health care experts, about rationing and the health care reform debate.
---
Karl Rove and Howard Dean Debate Issues Before Overflow Crowd at DePauw University
The two discussed health care reform, immigration, CIA interrogations, the federal deficit, and a number of other hot-button issues.
Watch more videos of the debate at depauw.edu.
---
Faiz Shakir talks health care reform on CNBC.
---
Howard Dean on The Exchange from New Hampshire Public Radio
---
Dean: Don't Craft Health Care Reform for a Single GOP Vote
From Crooks and Liars:
In a speech to Congress Wednesday, President Barack Obama may come out for a public health care option that would be triggered only if health insurance companies don't provide affordable solution in a predetermined time frame. One Republican Senator, Olympia Snowe, has expressed support for this idea. Gov. Howard Dean told Fox News' Chris Wallace that it was a mistake to craft a bill just to get a single Republican vote Sunday.
View the original article here.
---
Universal Health Care Message to Americans From Canadian Doctors & Health Care Experts
---
CBS News
Politics Versus Policy
August 23, 2009 9:27 AM
Former DNC Chairman Howard Dean told Bob Schieffer on "Face The Nation" that the health-care co-operative option is purely a political strategy.
---
Outside the Beltway, Dean Manages to Stay in the Debate
By Philip Rucker
Washington Post Staff Writer
Wednesday, August 19, 2009; 11:25 AM
POLAND SPRING, Maine -- Former Democratic National Committee chairman Howard Dean is emerging as a thorn in the side of a White House that effectively swept him out of Washington, regularly challenging President Obama and Congress as he crisscrosses the country, preaching his progressive vision for universal health care.
"The worst thing that could happen is to pass a bill without a public option," Dean told an assembly of Democratic activists in a fiery speech at a pep rally and picnic here last weekend. "Then we'd put 60 billion new dollars a year into the health insurance industry that is busy taking away your health insurance when you need it most, stopping you from getting health insurance, taking it away if you lose a job and not giving it back to you if you get it back."
Some 200 union workers and Democratic volunteers who knocked on doors and tirelessly turned out voters for Obama last November rallied Sunday under the blistering afternoon sun at a lakeside park here behind a different leader. With Obama seeming to back away from a public option in his health-care-reform plan, the liberals embraced Dean as their spokesman of the moment as he asserted that reform without a government-run insurance option is hardly reform at all.
---
Dean: We Will Have a Bill with a Public Option on the President's Desk by December | August 17, 2009
---
Dean: You Can't Pretend to Have Health Care Reform Without a Public Option
August 17, 2009
---
Dean Speaks At Netroots Nation About Need to Combat Misinformation On Public Option
August 15, 2005
---
Howard Dean on Obama, Michael Steele, and the Path to Real Healthcare Reform
August 7, 2009
Read full interview here.
---
Gingrich and Dean Talk Healthcare August 9, 2009 View video here.
---
Dean criticizes Senate Finance Committee's proposal July 28th, 2009
---
Howard Dean and Healthcare Reform on KUOW.org July 22, 2009 Listen Now
---
Campus Progress Presents Governor Howard Dean Discussing Real Health Care Reform July 21, 2009
---
Paul Ryan talks health care with Howard Dean and John Sheils July 20, 2009
---
Hennessey's health care reform plan July 17, 2009
---
Howard Dean with Amy Goodman on Democracy Now! July 17, 2009
---
Howard Dean discusses his guide to overcoming today's health care crisis at Manuel's Tavern, July 10th, 2009 View the video here.
---
Video: Howard Dean Joins With Igor Volsky And Faiz Shakir To Author Book On Healthcare Reform, July 1, 2009
---
Book Co-Author, Faiz Shakir debates Healthcare on C-Span June 30, 2009
---
Howard Dean talks about Healthcare, the Public Option, and Playing 'Doctor' with Stephen Colbert June 23, 2009
---
Countdown with Keith Olbermann
Howard Dean, on Countdown with Keith Olbermann, calls out the Blue Dogs and Conservative Democrats in Congress who want to block real healthcare reform in this video.
---
Howard Dean on WNYC's Brian Lehrer Show June 18th, 2009
---
Howard Dean Responds to Bush on the Today Show, June 18, 2009
---
Howard Dean on C-SPAN's Washington Journal, June 10th, 2009 Read more here...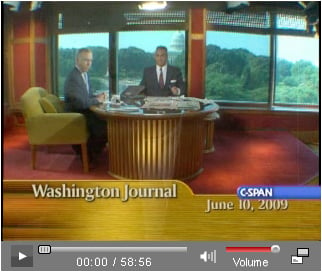 ---
Howard Dean on Keith Olbermann, June 6th, 2009 Read more here...