For the Media
Download a PDF of the press release.
Marketing & Publicity Coordinator
Chelsea Green Publishing:
Taylor Haynes
[email protected]
802.295.6300 ext. 106
Publication Date: July 2009


---

Dean Contact:
Karen Finney
202.431.6041

Howard Dean's Prescription
for Real Healthcare Reform
How We Can Achieve Affordable Medical Care for
Every American and Make Our Jobs Safer
Howard Dean
with Igor Volsky and Faiz Shakir

$12.95 US • $14.50 CAN • Paperback
ISBN 9781603582285
5 3/8 x 8 3/8 • 144 pages
E-book (all formats) • $9.95 • ISBN 9781603582353
Pub Date: July 2009
In a riveting call to action Dean takes on those who are once again mobilizing against real reform with many of the same hollow arguments and rhetorical charges about a socialist agenda. As Dean points out in his book, they should check the facts. "America has had 'socialized' medicine since 1964. It's called Medicare; it covers every American over 65, and they are very happy with the program. The rest of America deserves a similar option."
Dean argues that for real reform to happen, Americans must have the choice to either keep their existing coverage if they are happy with it, or have the option to select a public plan; and that America must continue to make key investments as President Obama has begun to make in health care information technology to reduce costs and improve the quality of care.
Dean also looks at the devastating impact the current healthcare system has had on the American economy, adding to job losses as rising health care costs cause a bankruptcy in America every 30 seconds and 14,000 people lose their health insurance every day. Rising health care costs are also one of the major reasons why small businesses close down and corporations ship jobs overseas.
This new paperback original (and e-book) outlines a practical, pragmatic approach as proposed by President Obama during the 2008 Presidential campaign, and the arguments the opposition will use to prevent a system that includes the 48 million Americans who are forced to live without health insurance:
Give every American the choice of public or private healthcare insurance,
Public health coverage for life, no matter where you live or work,
No forced moves if the consumer is happy with current coverage,
Small business assistance from the government for employee plans,
No American is disqualified for an existing health condition,
Similar premium costs for everyone, despite age or illness, and
Fewer dollars spent on management and more on medicine.
"This is the moment when real reform is finally possible. Governor Dean has been a passionate advocate for reform for a long time and, as a physician, has a unique perspective of what is needed and what will actually work. Anyone who wants to better understand the debate and how to fight back should read this book. Chelsea Green is honored to publish this important book that will no doubt influence the national debate about healthcare reform, said Chelsea Green Publisher Margo Baldwin."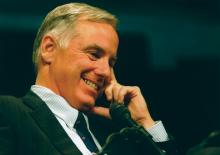 Howard Dean, former DNC Chairman, presidential candidate, six term Governor and physician, currently works as an Independent consultant focusing on the areas of health care, early childhood development, alternative energy and the expansion of grassroots politics around the world. Dean was recently named Chairman of the Board of the Progressive Book Club, which works to empower progressives to develop, debate and promote progressive ideas through books and is also working with Democracy for America to mobilize the grassroots in support of health care reform.