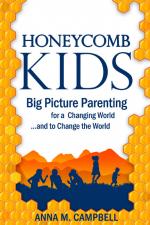 Like this book? Digg it!

Book Data
ISBN: 9780980747508
Year Added to Catalog: 2012
Book Format: Paperback
Dimensions: 6 x 9
Number of Pages: 264
Book Publisher: Cape Able Publishing
Release Date: April 23, 2012
Web Product ID: 684
Also in Simple Living
Honeycomb Kids
Big Picture Parenting for a Changing World and to Change the World!
Praise
"Transition initiatives attract people of all ages, concerned about the world our generations are creating for future generations to live in. We try to live more sustainably ourselves and work at building local community resilience. We recognise that this process of transition will possibly take several generations. Anna Campbells Honeycomb Kids brings a fresh and very important new perspective to the Transition narrative. Written with skill, humour and heart, this book gives simple, practical and wise guidance for raising children who will undoubtedly be influential in building sustainable, resilient communities wherever they live in the future. Read it yourself, be inspired, and give it as a gift to anyone you know with children—the planet will thank you!"

—Peter Driscoll, co-founder, Transition Sydney
"Anna Campbells 'honeycomb' is a metaphor for a context in which parents can raise resilient, capable, caring kids who can make their way in, and contribute positively to, a world that currently appears to be careening toward environmental and economic ruin. Parents will find both honesty and inspiration."

—Richard Heinberg, author of The End of Growth and Peak Everything
"Honeycomb Kids provides an important and timely contribution to the collective wisdom of modern day parents across the globe. It is unique in its approach and scope and full of practical suggestions. This mothers journey is set to be an important catalyst for affecting change, for the betterment of families, communities and humankind."

—Lenora Newcombe, president of Hunter Alliance for Childhood Inc.
"Sustainable lifestyles and families lead to real wealth. Use this book to help you start investing now."

—David Wann, author of Simple Prosperity
"We face a pressing challenge of creating resilient communities able to meet the challenges of peak oil, climate change and over consumption. Honeycomb Kids provides an easy-to-read, handy tool for shaping a sustainable, fulfilling future. While it provides practical ideas for how to nurture children who focus on what really matters, it also challenges parents and community members to reconsider how we live. Hopefully it will generate conversations and action at dinner tables, schools, playgroups, places of worship, parties and even boardrooms throughout the country."

—Dr. Graeme Stuart, Family Action Centre, The University of Newcastle
"Positive change in the world comes about with the rise of new generations, so this guide for parents helping children grow through both global and personal challenges is both needed and very welcome."

—Tim Costello, chief executive, World Vision Australia
"In prose that is engaging and easy to read, Anna Campbell spurs us to think hard about the lives we have chosen to lead and the examples we are setting for our children. Full of practical advice on how we can help our children grow into happy, healthy, and resilient individuals, Honeycomb Kids is a must-read."

—Kate Hopper, author of Use Your Words: A Writing Guide for Mothers
"One world. One humanity. One destiny. It can all start with one family: yours. Honeycomb Kids gives you the ideas and tools you need to parent with the future in mind."

—Tim Flannery, bestselling author of Here on Earth and The Weather Makers