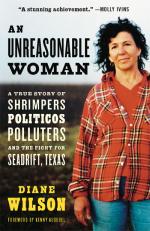 Like this book? Digg it!

Book Data
ISBN: 9781931498883
Year Added to Catalog: 2005
Book Format: Hardcover
Number of Pages: 6 x 9, 391 pages
Book Publisher: Chelsea Green Publishing
Old ISBN: 1931498881
Release Date: September 1, 2005
Web Product ID: 84
An Unreasonable Woman
A True Story of Shrimpers, Politicos, Polluters, and the Fight for Seadrift, Texas
Foreword by Kenny Ausubel
Praise
Back in the 1960s there was much banter about who would write the great American novel. Well, I think I've found the book: An Unreasonable Woman by Diane Wilson. There's a catch. This isn't fiction. And it's all the more powerful for that reason. Part memoir, part thriller, part manifesto, Wilson's book is a mesmerizing account of her life as a shrimper on the Gulf of Mexico operating out of the little town of of Seadrift, Texas. Times are hard. The shrimp are running out. People are getting sick. The tiny hamlet is being gobbled up by chemical plant sprawl and drowned in toxic effluent. Wilson, mother of five, decides to take action, direct action against the chemical and oil giants. And thus begins a tale as gripping as The Perfect Storm and as unnerving as the movie Silkwood. But the real treasure here is the quality of Wilson's writing. This is no as-to account, ghost written by some third rate editor at a New York publisher. Wilson's voice is unforgettable from the opening paragraph. A southern voice on a literary level with that of Flannery O'Connor, Fanny Flagg and Lee Smith from the great novel Oral History. Her story is genuinely heroic, but Wilson's evocative descriptions of her daily life on the gulf (mending the cumbersome nets, raising her autistic son Crocket, the flight passterns of shorebirds, the stench from the bloated corpses of poisoned dolphins) seal the deal. So rip down those tattered posters of Che and tape up one of Diane Wilson. Or better yet forget the poster and a hop a ride down to the Chemical Gulf and join the fight.

—Jeffrey St. Clair, CounterPunch
What a terrific book. I dont often gush, but this book had me fascinated from the first page and whomper-jawed half the time. A voice like Diane Wilsonsworking class woman with five kidsis so rare. For one thing, if you have five kids and a job, not to mention a battle with an international chemical company on your hands, its hard to get around to writing. And to write this well is a stunning achievement.

—Molly Ivins, nationally syndicated political columnist and author, most recently, of "Who Let the Dogs In?"
In these dire days when governments wage war on all life on earth, we await heroes. Now, a powerful voice has emerged from the Texas coast. Diane Wilson's passion is sufficient to drive her to civil disobedience and her physical courage sets her apart from our tame modern environmental mainstream. This remarkable woman has written a durable and empowering book. May we all draw strength from her victory

—Doug Peacock, author of Walking It Off
Nothing can really prepare you for the nervy, scary, riotous, enraging tale of Diane Wilson's education as an environmental activist—or its ultimately inspiring resolution. Essential reading

—Joan Dye Gussow, author of This Organic Life
Don't pick this book up if you want to stay in your comfort zone. Diane's journey is a riveting tale of "Nothing Is As It Appears." The environmental agencies we're so proud of simply give out permits to polluters, tweaking a detail here and there. With spunk, verve, and humor, Diane faces down her fears. This story will break your heart wide open.

—Ellen Augustine Schwartz, author of Taking Back Our Lives in the Age of Corporate Dominance
For the American environmental movement, An Unreasonable Woman could not come at a better time. Citizens across the political spectrum are growing alarmed at the Bush administration's rollback of protective legislation for water, air and national parks. This book does for environmentalism what All the President's Men did for government reform. Watch for the movie.

—San Diego Union-Tribune
A literary voice like Diane's surfaces only a few precious times in a generation.

—Kenny Ausubel, founder of Bioneers, from the Foreword
This is a book with arms so strong it reaches out, grabs you, and won't let go until its last dying words. Even then it haunts. An Unreasonable Woman is the first book in years that has caused me to lose sleep. This is the extraordinary story of a woman who gambled everything for her place. It is like nothing I have ever read. This book is a crucible and no one will finish it unchanged.

—Janisse Ray, author of Ecology of a Cracker Childhood and Pinhook: Finding Wholeness in a Fragmented Land
Texas is famous for its tall tales, but they pale in comparison to the true tale of Diane Wilson. Hers is a mind-bending story of corporate intrigue, government shenanigans and all-around political dirty tricks. This is a book about one of our greatest local heroes that could just give Texas a good name for a change.

—Jim Hightower, author of Let's Stop Beating Around the Bush
Read and delight in the story how one fierce and feisty fisher-woman wrestled the corporate polluters and won. Diane Wilson's pit-bull tenacity when it comes to defending Mother Nature is the stuff of legends. Hip to the fact that well-behaved women rarely make history, Diane has already inspired a new movement of totally uncontrollable, irresistible and unreasonable women!

—Medea Benjamin, cofounder of CODEPINK and coauthor of Stop the Next War Now
...An Unreasonable Woman will stand as one of this nation's greatest works of nonfiction. I have never read a book quite like this one, and worry already that I might not yet again. This is one of the most powerful works of nonfiction I can remember reading in many years. In a cynical age, amidst such rampant loss and destruction, it's easy to regard Diane Wilson's book as simply a masterpiece, and to let it go at that. But we owe it more. This book inspires in us the courage to believe—to remember—we can still change the world.

—Rick Bass, award-winning author of The Hermit's Story and Colter: The True Story of the Best Dog I Ever Had
Imagine if Faulkner were the Mad Hatter on a mission to save the planet and you get some idea of Diane Wilson's astonishing story and her rawboned but powerful prose style. This is an important book because it proves that eternal vigilance and magnificent obsession are often the price that must be paid to save our fragile ecosystems from those bent on despoiling them for profit.

—Ken Wells, author of Meely LaBauve