Showing 1–16 of 30 results
Showing 1–16 of 30 results
Dig into our Articles - Community Resilience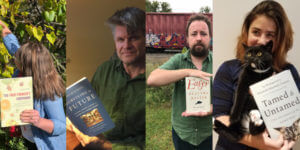 Are you new to the Chelsea Green community and aren't sure which book to read first? Or maybe you're a long-time fan and want to continue your binge-reading but need some fresh ideas. Regardless of how you got here, we can help! From the enlightening and thought-provoking to the quirky and fun, we, the Chelsea…
Read More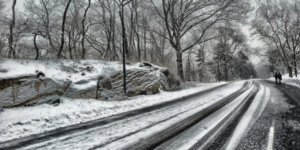 Now that temperatures have started to dip below freezing, and most folks living in colder climates have witnessed their first snowfall of the season, it's time to get serious about winter preparedness. Especially when it comes to driving! The following is an excerpt from When Disaster Strikes by Matthew Stein. It has been adapted for the…
Read More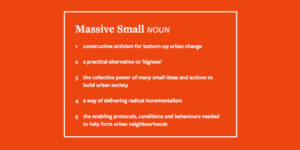 For generations, we've worked collectively as a society to build our cities into vibrant communities where we can progress and flourish together. Over the years, however, we've lost the art of collective and community evolution as our governments step in with their big ideas for urban growth – many of which come at a steep…
Read More
$

24.95
Add to basket
The Permaculture City
Regenerative Design for Urban, Suburban, and Town Resilience
Permaculture is more than just the latest buzzword; it offers positive solutions for many of the environmental and social challenges confronting us. And nowhere are those remedies more needed and desired than in our cities. The Permaculture City provides a new way of thinking about urban living, with practical examples for creating abundant food, energy security, close-knit communities, local and meaningful livelihoods, and sustainable policies in our cities and towns. The same nature-based approach that works so beautifully for growing food—connecting the pieces of the landscape together in harmonious ways—applies perfectly to many of our other needs. Toby Hemenway, one of the leading practitioners and teachers of permaculture design, illuminates a new way forward through examples of edge-pushing innovations, along with a deeply holistic conceptual framework for our cities, towns, and suburbs.
The Permaculture City begins in the garden but takes what we have learned there and applies it to a much broader range of human experience; we're not just gardening plants but people, neighborhoods, and even cultures. Hemenway lays out how permaculture design can help towndwellers solve the challenges of meeting our needs for food, water, shelter, energy, community, and livelihood in sustainable, resilient ways. Readers will find new information on designing the urban home garden and strategies for gardening in community, rethinking our water and energy systems, learning the difference between a "job" and a "livelihood," and the importance of placemaking and an empowered community.
This important book documents the rise of a new sophistication, depth, and diversity in the approaches and thinking of permaculture designers and practitioners. Understanding nature can do more than improve how we grow, make, or consume things; it can also teach us how to cooperate, make decisions, and arrive at good solutions.
Read More...
$

24.95
Add to basket
$

19.95
Add to basket
The Local Economy Solution
How Innovative, Self-Financing "Pollinator" Enterprises Can Grow Jobs and Prosperity
Reinventing economic development as if small business mattered
In cities and towns across the nation, economic development is at a crossroads. A growing body of evidence has proven that its current cornerstone—incentives to attract and retain large, globally mobile businesses—is a dead end. Even those programs that focus on local business, through buy-local initiatives, for example, depend on ongoing support from government or philanthropy. The entire practice of economic development has become ineffective and unaffordable and is in need of a makeover. 
The Local Economy Solution suggests an alternative approach in which states and cities nurture a new generation of special kinds of businesses that help local businesses grow. These cutting-edge companies, which Shuman calls "pollinator businesses," are creating jobs and the conditions for future economic growth, and doing so in self-financing ways. 
Pollinator businesses are especially important to communities that are struggling to lift themselves up in a period of economic austerity, when municipal budgets are being slashed. They also promote locally owned businesses that increase local self-reliance and evince high labor and environmental standards. 
The book includes nearly two dozen case studies of successful pollinator businesses that are creatively facilitating business and neighborhood improvements, entrepreneurship, local purchasing, local investing, and profitable business partnerships. Examples include Main Street Genome (which provides invaluable data to improve local business performance), Supportland (which is developing a powerful loyalty card for local businesses), and Fledge (a business accelerator that finances itself through royalty payments). It also shows how the right kinds of public policy can encourage the spread of pollinator businesses at virtually no cost.
Read More...
$

19.95
Add to basket
$

29.95
Add to basket
Earth User's Guide to Teaching Permaculture
Permaculture design is a powerful tool for creating systems that meet our human needs but also support the ecosystem as a whole. It applies ecological principles to designing gardens, farms, community projects, even entire human settlements. The standard seventy-two-hour Permaculture Design (PDC) course is taught all over the world to farmers, gardeners, design professionals, and world changers who want to practically create a healthier, more equitable planet.
Rosemary Morrow offers evidence for permaculture's effectiveness and describes each unit of the PDC's curriculum. This fully revised and updated edition contains a wealth of technical information for teaching permaculture design and includes new findings in emerging disciplines such as regenerative agriculture. Earth User's Guide to Teaching Permaculture is of key relevance to teachers and students of architecture, landscape design, ecology, and other disciplines like geography, regenerative agriculture, agro-ecology, and agroforestry, as well as permaculture design. It leads the reader step by step through a recommended course structure, providing a flexible approach that encourages the adaptation of the materials for specific bioregional and cultural conditions. With advice on teaching aids, topics for class discussion, extensive reading lists, and tips on teaching adults, this book is bound to be an invaluable friend to the experienced and novice teacher alike.
Read More...
$

29.95
Add to basket
$

24.95
Add to basket
Outdoor Classrooms
A Handbook for School Gardens, 2nd Edition
Outdoor Classrooms: A Handbook for School Gardens is ideal for teachers and home educators who want to incorporate education at all levels of the school curriculum with an emphasis on:
setting up edible gardens
teaching children about growing food
food security and economics
human and planetary health
permaculture and sustainability.
Beautifully illustrated throughout, Outdoor Classrooms is presented as two streams of thought:
Carolyn takes us through the history of school gardens and articulates the need for a revival before leading us on an enticing journey of the imagination into the schoolyard and delight in the natural world.
Janet then offers a comprehensive and practical plan for developing "a successful, supported school garden that has the potential to benefit an entire community."
Read More...
$

24.95
Add to basket
$

19.95
Add to basket
Paradise Lot
Two Plant Geeks, One-Tenth of an Acre, and the Making of an Edible Garden Oasis in the City
When Eric Toensmeier and Jonathan Bates moved into a duplex in a run-down part of Holyoke, Massachusetts, the tenth-of-an-acre lot was barren ground and bad soil, peppered with broken pieces of concrete, asphalt, and brick. The two friends got to work designing what would become not just another urban farm, but a "permaculture paradise" replete with perennial broccoli, paw paws, bananas, and moringa—all told, more than two hundred low-maintenance edible plants in an innovative food forest on a small city lot. The garden—intended to function like a natural ecosystem with the plants themselves providing most of the garden's needs for fertility, pest control, and weed suppression—also features an edible water garden, a year-round unheated greenhouse, tropical crops, urban poultry, and even silkworms.
In telling the story of Paradise Lot, Toensmeier explains the principles and practices of permaculture, the choice of exotic and unusual food plants, the techniques of design and cultivation, and, of course, the adventures, mistakes, and do-overs in the process. Packed full of detailed, useful information about designing a highly productive permaculture garden, Paradise Lot is also a funny and charming story of two single guys, both plant nerds, with a wild plan: to realize the garden of their dreams and meet women to share it with. Amazingly, on both counts, they succeed.
Read More...
$

19.95
Add to basket
$

24.95
Add to basket
Slow Democracy
Rediscovering Community, Bringing Decision Making Back Home
Reconnecting with the sources of decisions that affect us, and with the processes of democracy itself, is at the heart of 21st-century sustainable communities.
Slow Democracy chronicles the ways in which ordinary people have mobilized to find local solutions to local problems. It invites us to bring the advantages of "slow" to our community decision making. Just as slow food encourages chefs and eaters to become more intimately involved with the production of local food, slow democracy encourages us to govern ourselves locally with processes that are inclusive, deliberative, and citizen powered.
Susan Clark and Woden Teachout outline the qualities of real, local decision making and show us the range of ways that communities are breathing new life into participatory democracy around the country. We meet residents who seize back control of their municipal water systems from global corporations, parents who find unique solutions to seemingly divisive school-redistricting issues, and a host of other citizens across the nation who have designed local decision-making systems to solve the problems unique to their area in ways that work best for their communities.
Though rooted in the direct participation that defined our nation's early days, slow democracy is not a romantic vision for reigniting the ways of old. Rather, the strategies outlined here are uniquely suited to 21st-century technologies and culture.If our future holds an increased focus on local food, local energy, and local economy, then surely we will need to improve our skills at local governance as well.
Read More...
$

24.95
Add to basket
$

34.95
Add to basket
People & Permaculture
Caring and Designing for Ourselves, Each Other and the Planet
This is the first book to explore how to use permaculture design and principles for people – to restore personal, social and planetary well-being.
People & Permaculture widens the definition of permaculture from being mainly about land-based systems to include our own lives, relationships and society. This book provides a framework to help each of us improve our ability to care for ourselves, our friends, families and for the Earth. It is also a clear guide for those who may be new to permaculture, who may not even have a garden, but who wish to be involved in making changes to their lives and living more creative, low carbon lives. People & Permaculture transforms the context of permaculture making it relevant to everyone.
Including over 50 practical activities, People & Permaculture empowers readers with tried and tested tools to initiate positive change in their lives. It is a hands-on yet powerful guide to creating a sustainable world.
Read More...
$

34.95
Add to basket
$

17.95
Add to basket
Dreaming the Future
Reimagining Civilization in the Age of Nature
Few would deny that we are entering a period of great change. Our environment is collapsing. Social disruption abounds. All around, it seems, we are experiencing breakdown. But out of this chaos comes the opportunity for breakthrough-the opportunity to reimagine our future.
In Dreaming the Future, Kenny Ausubel leads us into that possible new world and introduces us to the thinkers and doers who are-sometimes quietly, sometimes not-leading what he calls "a revolution from the heart of nature and the human heart."
In a collection of short, witty, poignant, even humorous essays, Ausubel tracks the big ideas, emerging trends, and game-changing developments of our time. He guides us through our watershed moment, showing how it's possible to emerge from a world where corporations are citizens, the gap between rich and poor is cavernous, and biodiversity and the climate are under assault and create a world where we take our cues from nature and focus on justice, equity, diversity, democracy, and peace.
Even those steeped in the realities of a world gone wrong and efforts to right it will find refreshing, even surprising, perspectives in Dreaming the Future. It will come as no surprise to readers that Ausubel is cofounder of Bioneers-which foreword author David W. Orr describes as "one part global salon…one part catalytic organization."
Read More...
$

17.95
Add to basket
Paperback
$

19.95
Add to basket
Power from the People
How to Organize, Finance, and Launch Local Energy Projects
Over 90 percent of US power generation comes from large, centralized, highly polluting, nonrenewable sources of energy. It is delivered through long, brittle transmission lines, and then is squandered through inefficiency and waste. But it doesn't have to be that way. Communities can indeed produce their own local, renewable energy.
Power from the People explores how homeowners, co-ops, nonprofit institutions, governments, and businesses are putting power in the hands of local communities through distributed energy programs and energy-efficiency measures.
Using examples from around the nation – and occasionally from around the world – Greg Pahl explains how to plan, organize, finance, and launch community-scale energy projects that harvest energy from sun, wind, water, and earth. He also explains why community power is a necessary step on the path to energy security and community resilience – particularly as we face peak oil, cope with climate change, and address the need to transition to a more sustainable future.
This book – the second in the Chelsea Green Publishing Company and Post Carbon Institute's Community Resilience Series – also profiles numerous communitywide initiatives that can be replicated elsewhere.
Read More...
$

19.95
Add to basket
$

17.95
Add to basket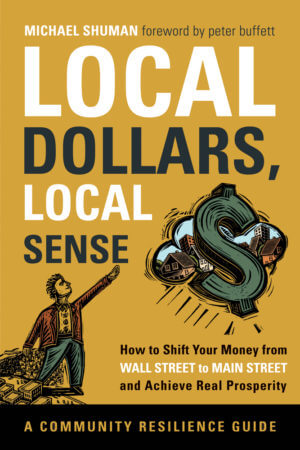 Local Dollars, Local Sense
How to Shift Your Money from Wall Street to Main Street and Achieve Real Prosperity
Local Dollars, Local Sense is a guide to creating Community Resilience.
Americans' long-term savings in stocks, bonds, mutual funds, pension funds, and life insurance funds total about $30 trillion. But not even 1 percent of these savings touch local small business-even though roughly half the jobs and the output in the private economy come from them. So, how can people increasingly concerned with the poor returns from Wall Street and the devastating impact of global companies on their communities invest in Main Street?
In Local Dollars, Local Sense, local economy pioneer Michael Shuman shows investors, including the nearly 99% who are unaccredited, how to put their money into building local businesses and resilient regional economies-and profit in the process. A revolutionary toolbox for social change, written with compelling personal stories, the book delivers the most thorough overview available of local investment options, explains the obstacles, and profiles investors who have paved the way. Shuman demystifies the growing realm of local investment choices-from institutional lending to investment clubs and networks, local investment funds, community ownership, direct public offerings, local stock exchanges, crowdfunding, and more. He also guides readers through the lucrative opportunities to invest locally in their homes, energy efficiency, and themselves.
A rich resource for both investors and the entrepreneurs they want to support, Local Dollars, Local Sense eloquently shows how to truly protect your financial future–and your community's.
Read More...
$

17.95
Add to basket
$

24.95
Add to basket
When Disaster Strikes
A Comprehensive Guide for Emergency Prepping and Crisis Survival
Disasters often strike without warning and leave a trail of destruction in their wake. Yet armed with the right tools and information, survivors can fend for themselves and get through even the toughest circumstances. Matthew Stein's When Disaster Strikes provides a thorough, practical guide for how to prepare for and react in many of life's most unpredictable scenarios.
In this disaster-preparedness manual, he outlines the materials you'll need-from food and water, to shelter and energy, to first-aid and survival skills-to help you safely live through the worst. When Disaster Strikes covers how to find and store food, water, and clothing, as well as the basics of installing back-up power and lights. You'll learn how to gather and sterilize water, build a fire, treat injuries in an emergency, and use alternative medical sources when conventional ones are unavailable.
Stein instructs you on the smartest responses to natural disasters-such as fires, earthquakes, hurricanes and floods-how to keep warm during winter storms, even how to protect yourself from attack or other dangerous situations. With this comprehensive guide in hand, you can be sure to respond quickly, correctly, and confidently when a crisis threatens.
Read More...
$

24.95
Add to basket
Paperback
$

24.95
Add to basket
Gaviotas
A Village to Reinvent the World, 2nd Edition
Los Llanos—the rain-leached, eastern savannas of war-ravaged Colombia—are among the most brutal environments on Earth and an unlikely setting for one of the most hopeful environmental stories ever told. Here, in the late 1960s, a young Colombian development worker named Paolo Lugari wondered if the nearly uninhabited, infertile llanos could be made livable for his country's growing population. He had no idea that nearly four decades later, his experiment would be one of the world's most celebrated examples of sustainable living: a permanent village called Gaviotas.
In the absence of infrastructure, the first Gaviotans invented wind turbines to convert mild breezes into energy, hand pumps capable of tapping deep sources of water, and solar collectors efficient enough to heat and even sterilize drinking water under perennially cloudy llano skies. Over time, the Gaviotans' experimentation has even restored an ecosystem: in the shelter of two million Caribbean pines planted as a source of renewable commercial resin, a primordial rain forest that once covered the llanos is unexpectedly reestablishing itself.
Colombian author Gabriel García Márquez has called Paolo Lugari "Inventor of the World." Lugari himself has said that Gaviotas is not a utopia: "Utopia literally means 'no place.' We call Gaviotas a topia, because it's real."
Relive their story with this special 10th-anniversary edition of Gaviotas, complete with a new afterword by the author describing how Gaviotas has survived and progressed over the past decade.
Read More...
$

24.95
Add to basket
$

35.00
Add to basket
When Technology Fails
A Manual for Self-Reliance, Sustainability, and Surviving the Long Emergency, 2nd Edition
There's never been a better time to "be prepared." Matthew Stein's comprehensive primer on sustainable living skills—from food and water to shelter and energy to first-aid and crisis-management skills—prepares you to embark on the path toward sustainability. But unlike any other book, Stein not only shows you how to live "green" in seemingly stable times, but to live in the face of potential disasters, lasting days or years, coming in the form of social upheaval, economic meltdown, or environmental catastrophe.
When Technology Fails covers the gamut. You'll learn how to start a fire and keep warm if you've been left temporarily homeless, as well as the basics of installing a renewable energy system for your home or business. You'll learn how to find and sterilize water in the face of utility failure, as well as practical information for dealing with water-quality issues even when the public tap water is still flowing. You'll learn alternative techniques for healing equally suited to an era of profit-driven malpractice as to situations of social calamity. Each chapter (a survey of the risks to the status quo; supplies and preparation for short- and long-term emergencies; emergency measures for survival; water; food; shelter; clothing; first aid, low-tech medicine, and healing; energy, heat, and power; metalworking; utensils and storage; low-tech chemistry; and engineering, machines, and materials) offers the same approach, describing skills for self-reliance in good times and bad.
Fully revised and expanded—the first edition was written pre-9/11 and pre-Katrina, when few Americans took the risk of social disruption seriously—When Technology Fails ends on a positive, proactive note with a new chapter on "Making the Shift to Sustainability," which offers practical suggestions for changing our world on personal, community and global levels.
Read More...
$

35.00
Add to basket
$

35.00
Add to basket
Sharing the Harvest
A Citizen's Guide to Community Supported Agriculture, 2nd Edition
To an increasing number of American families the CSA (community supported agriculture) is the answer to the globalization of our food supply. The premise is simple: create a partnership between local farmers and nearby consumers, who become members or subscribers in support of the farm. In exchange for paying in advance–at the beginning of the growing season, when the farm needs financing–CSA members receive the freshest, healthiest produce throughout the season and keep money, jobs, and farms in their own community.
In this thoroughly revised and expanded edition of a Chelsea Green classic, authors Henderson and Van En provide new insight into making CSA not only a viable economic model, but the right choice for food lovers and farmers alike. Thinking and buying local is quickly moving from a novel idea to a mainstream activity. The groundbreaking first edition helped spark a movement and, with this revised edition, Sharing the Harvest is poised to lead the way toward a revitalized agriculture.
Read More...
$

35.00
Add to basket