Lessons in Resilience Collection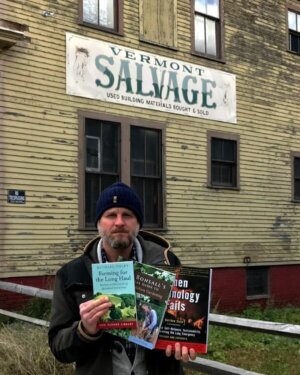 Recently, author Michael Foley (Farming for the Long Haul) included this Wendell Berry quote in an email he sent me: "Expect the end of the world. Laugh. Laughter is immeasurable. Be joyful though you have considered all the facts." Berry's words informed my recommendation of these three titles—all of which focus on resourcefulness, self-reliance, and resilience while accepting that we live in uncertain times. More succinctly (and here I'll quote hip hop artists Cypress Hill): "When the st*t goes down, you better be ready."
Read these books. Study them. Keep them close at hand. With a little bit of knowledge and preparation, it will be easier to laugh at the absurdity of it all.
—Sean Maher, Director of Marketing
Farming for the Long Haul is about building a viable small farm economy that can withstand the economic, political, and climatic shock waves that the twenty-first century portends. It draws on the innovative work of contemporary farmers, but more than that, it shares the experiences of farming societies around the world that have maintained resilient agricultural systems over centuries of often-turbulent change. Indigenous agriculturalists, peasants, and traditional farmers have all created broad strategies for survival through good times and bad, and many of them prospered. They also developed particular techniques for managing soil, water, and other resources sustainably. Some of these techniques have been taken up by organic agriculture and permaculture, but many more of them are virtually unknown, even among alternative farmers. This book lays out some of these strategies and presents techniques and tools that might prove most useful to farmers today and in the uncertain future.
Will Bonsall's Essential Guide to Radical, Self-Reliant Gardening
In Will Bonsall's Essential Guide to Radical, Self-Reliant Gardening, Bonsall maintains that to achieve real wealth we first need to understand the economy of the land, to realize that things that might make sense economically don't always make sense ecologically, and vice versa. The marketplace distorts our values, and our modern dependence on petroleum in particular presents a serious barrier to creating a truly sustainable agriculture.
For him the solution is, first and foremost, greater self-reliance, especially in the areas of food and energy. By avoiding any off-farm inputs (fertilizers, minerals, and animal manures), Bonsall has learned how to practice a purely veganic, or plant-based, agriculture—not from a strictly moralistic or philosophical perspective, but because it makes good business sense: spend less instead of making more.
There's never been a better time to "be prepared." Matthew Stein's comprehensive primer on sustainable living skills—from food and water to shelter and energy to first-aid and crisis-management skills—prepares you to embark on the path toward sustainability. But unlike any other book, Stein not only shows you how to live "green" in seemingly stable times, but to live in the face of potential disasters, lasting days or years, coming in the form of social upheaval, economic meltdown, or environmental catastrophe.
Fully revised and expanded—the first edition was written pre-9/11 and pre-Katrina, when few Americans took the risk of social disruption seriously—When Technology Fails ends on a positive, proactive note with a new chapter on "Making the Shift to Sustainability," which offers practical suggestions for changing our world on personal, community and global levels.