Looking for something to do this weekend?
For those who prefer a dash of civil disobedience with their horticultural endeavors, check out the Guerrilla Gardening website. It's full of great stories, tips, and pictures of neglected public spaces that have been revitalized through "illicit cultivation."
Chelsea Green author Heather Flores wrote about the subject in Food Not Lawns back in 2006. Take a gander at Heather's guide to guerrilla gardening, reprinted below, and decide if you're ready to become a foot soldier in the war against urban blight.
The following is an excerpt from Food Not Lawns: How to Turn Your Yard Into a Garden and Your Neighborhood Into a Community by Heather C. Flores. It has been adapted for the Web.
Start a Garden in a Vacant Lot
You can do this with or without permission. Sometimes property owners will let you plant vegetables and fruit trees in a sunny, underused corner. Others may say no if you ask but won't notice for a long while if you just do it without telling them.
When the Food Not Lawns collective started our first garden, in an overgrown section of the park, the city didn't know we were there for almost a year. We got the combination to the gate from a neighbor, cleared out all the trash and debris, and started gardening. By the time folks from the city came along to ask questions, we had a beautiful garden established, and they let us continue to use the space. They even sent park workers to drop off chip mulch once in a while!
There are countless examples like this, where people took over an area, grew food, and maintained access for many years. Some of these squatted gardens eventually gained ownership of the land. Sadly, there are just as many examples of gardens that were eventually bulldozed and paved over. In my opinion it is usually worth a try, and you will probably get at least a season's reward for your audacity. This and the previous option are often called guerrilla gardening.
As you look for places to grow, ask yourself some important, practical questions: Will you actually go there to garden? Will you be inspired by the surrounding space? Will the plants have an opportunity to reach maturity? Will you want to eat the produce? Grow what you love, what you eat, and what you want to look at, in a space that makes you feel healthy and empowered.
Guerrilla Gardening
Substitute the word Lawns for Bombs, pick up seeds and plants to give away instead of vegetables and tofu, and you've started a local chapter of Food Not Lawns! If you do this, be sure to send me your information and I'll put it up on our website.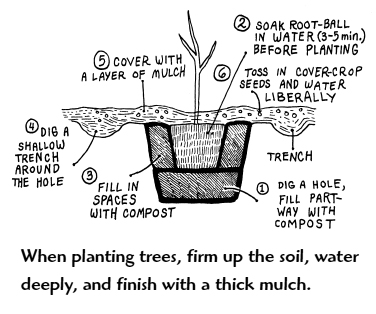 A great way to distribute these surplus plants is by transplanting them into public spaces around your neighborhood. In the city and out of town there are many open spaces that are perfectly suitable for spreading seed balls, planting a tree, or growing a patch of vegetables. Neighbors may follow suit, and a tree you planted one year will have tulips and sunflowers coming up around it the next.
This practice, known fondly to some as guerrilla gardening, takes many forms across the globe and is a great way to both increase local food security and find good homes for otherwise wasted plants. You can go back and weed, prune, mulch, or water or just set up the gardens in a way that won't require future maintenance. Potential sites for guerrilla plantings include urban riverbanks, parks, highway beauty strips, residential side yards, alleyways, apartment-complex green areas, rest stops, traffic islands, parking lots, and friends' houses. I bet you can think of a few good places near your house right now.
Guerrilla gardens beautify the neighborhood, increase local diversity, and provide food for people, animals, and insects. You can add to existing gardens by planting bee-attracting plants to increase the pollination of a favorite cherry tree in a local park, or you can start a new garden where there was only a pile of leaves or dirt. Some people drop seeds of tenacious plants such as burdock and morning glory into cracks in the sidewalk, hoping to break it up and let nature through.
Here are some guidelines for successful guerrilla gardening:
First, scout the site. Does it have full sun or partial shade? Is it hot or cool, dry or moist? Is there room for a large shrub, a small perennial, a large tree, a whole garden, or just a few flowers or vegetables? Do people influence the site? Often a park or roadside is mowed or sprayed with toxins; consider these factors when choosing what and where to plant.
Next, make a simple design and choose plants that will grow well in the site. For instance, it doesn't make sense to plant lettuce in a parking lot that gets full sun and no water: Lettuce likes cool and moist conditions, and will either die in infancy or go to seed immediately in such a hot site. However, it does make sense to plant a fig tree on the edge of an irrigated river or park-side bike path, where it can grow to maturity and provide a nutritious snack for passing bikers.
When you are ready to plant, choose a time of the day that is not too conspicuous. Load up a wheelbarrow, bike cart, or truck with seeds and plants, a shovel, some rich compost, a bucket or three of water, and a bucket of mulch.
Because you may not be tending the garden as closely as a more legal one, use a dry-garden transplanting technique: Dig a hole twice as deep and twice as wide as the root-ball of the plant. If the plant is root-bound (the roots are wrapped around themselves in a tight ball), gently loosen the roots by pulling them apart with fingers or sharp clippers before planting. Put some compost or natural fertilizer in the bottom of the hole. Dunk the roots in a bucket of water or compost tea for a few minutes and place them in the hole. Hold the plant erect and fill the hole with fertile compost, being careful not to damage the roots or leave them exposed. Firm the soil around the plant so there is no wobble to the stem, and provide a trellis or support poles if needed. Dig a very shallow trench around the base of the plant to create a reservoir for water and top it off with a thick layer of mulch. Water liberally: Use three times as much water as the volume of the pot the plant was in. Sow the seeds of some good companion plants and hope for the best.
Plants that will do particularly well in this situation include sunchoke, squash, berries, fruit trees (especially figs, plums, apples, and cherries), fennel, potatoes, radish, salsify, turnips, kale, filberts, passiflora, kiwi, tomatillo, bamboo, tomatoes, amaranth, garlic, rosemary, nettle, roses, and poppies, to name a few. Keep in mind that most plants, and especially fruit trees, will need more water the first year than after they are established, so try to include a few follow-up visits in your guerrilla plans.
---