Ask Joel Salatin what he does for a living and chances are he'll tell you he's a grass farmer. If that brings to mind images of burritos stuffed with sauteed Kentucky blue, or biofuel cars that run on lawn clippings, you've probably never seen Food, Inc. or read Michael Pollan's The Omnivore's Dilemma.
Called "the high priest of the pasture" by the New York Times, Salatin has developed a system of pasture rotation that produces nutrient-rich grass and maximizes the composting of animal waste. Each species on the farm is dependent on another. That makes for happy cows, pigs, chickens, turkeys, and rabbits.
This video report from Discovery News has more.
So you just pull [the chicken tractor] and the chickens walk, and they have a new section of pasture. They have new bugs, grasshoppers, grass, clover, and all the things that the pasture wants. And of course the beauty is they moved away from their manure. Their manure then fertilizes the pasture right on the grass, makes the grass grow better for the cows, and the birds get a fresh salad bar.
Watch it now.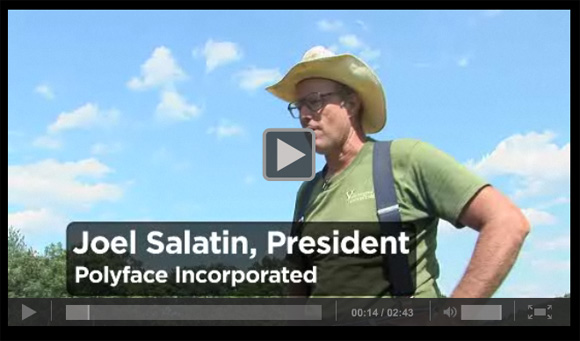 Related Articles:
---