Want to know breakthrough solutions to the world's most pressing problems for both people and the planet? Then check out the 2011 Bionneers Conference! The main conference is in San Rafael, CA on October 15th but it will also be transmitted to more than 18 locations nationwide–acting as a hub of information for people who are hungry for change and working to make a real difference in their local communities. For more information on the conference go to:  http://www.bioneers.org/conference

In celebration, we've put many of our sustainable business and various solution-oriented books on Sale for 25% off. Check out the list below! 
We are also delighted that globally renowned clean energy master Amory Lovins will present Reinventing Fire at Bioneers, a practical plan and roadmap for how the U.S. can get off fossil fuels by 2050 while simultaneously building a thriving, job-creating economy, led by business.  
Amory will show that a richer, fairer, cooler, safer world is possible, practical, and even profitable, because replacing fossil fuels now works better and costs no more than buying and burning them. As Amory notes of his boldest initiative yet: "Our experience convinces us that the world is short not of oil but of innovation, not of gas but of gumption, not of coal but of courage." 
We also wanted to highlight Bioneers by the Bay — just one of the many live broadcast sites, and the closest one to us — in New Bedford, MA. Last year over 2,000 attended and they are ready to roll up their sleeves again to harvest tangible, practical solutions to the specific challenges we face both in the Northeast and the world at large. For more information go to: 
http://www.marioninstitute.org/connecting-for-change/about-us
 Don't forget to check out thesustainable business and various 
solution-oriented books on Sale for 25% off. 
From the folks at Chelsea Green Publishing
Reinventing Fire
Bold Business Solutions for the New Energy Era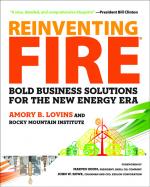 Save 25% Now
A global clean energy race has emerged with astounding speed. The ability to operate without fossil fuels will define winners and losers in business—-and among nations. 
Whether you care most about profits and jobs, national security, health, or environmental stewardship Reinventing Fire charts a pragmatic course that makes sense and makes money. With clarity and mastery, Amory Lovins and RMI reveal the astounding opportunities for enterprise to create the new energy era. Click here to see the blue print to the new energy era.
Watch Amory Lovins' various videos and presentations.
 "My friend Amory Lovins knows that the most important question of the 21st century is the 'how' question-how we turn good ideas into working solutions. Reinventing Fire is a wise, detailed, and comprehensive blueprint for gathering the best existing technologies for energy use and putting them to work right now to create jobs, end our dependence on climate—-changing fossil fuels, and unleash the enormous economic potential of the coming energy revolution." —-President Bill Clinton
Inquiries into the Nature of Slow Money
Investing as if Food, Farms and Fertility Mattered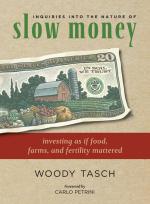 NOW 25% Off
"Woody Tasch has one of those fast minds that always seems to ask the right slow questions. He is on to something: a new vision of deploying capital in a way that might offer a true alternative to faster and faster, bigger and bigger, more and more global. I've been saying for years that we need to feed the soil, not the plant-
Slow Money 
is about feeding the soil of the economy." –
Eliot Coleman, farmer and author of the New Organic Grower and Four-Season Harvest
Check out author video "Growing Slow Money"
Buffett, Gates and the Story of Enough – by Woody Tash
"When is enough enough?"  Vermont Senator Bernie Sanders asked during his filibuster against the Lame Duck tax bill in December.  During the speech, he referred to Bill Gates and Warren Buffett, two of the world's richest three people.  (If you haven't been paying attention, they've been pushed down to the number two and three spots by Carlos Slim Helu, the Mexican telecom tycoon who is now worth $53.5 billion.)
The reference to Gates and Buffett in a speech about Enough was a result of their project called the Giving Pledge, which encourages billionaires to give away more than half their wealth.  And while this may not seem immediately relevant to life in the hills of Hardwick or the dales of Dorset, it raises important questions about the meaning of Enough, about ways in which we might, as a society, secede from the cult of He Who Dies With The Most Toys Wins and, maybe, just maybe, about ways to put back into the soil-the soil of the restorative economy and the actual soil-what we take out. Click here to continue reading the article.
Dream of a Nation
Inspiring Ideas for a Better America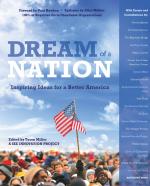 Get it for 25% off
Across the nation countless individuals and organizations are dreaming a new future. Dream of a Nation sheds lights on some of the groundbreaking leaders, projects and ideas that have the potential to solve society's toughest problems. Through a collection of essays and short commentaries, the solutions and projects presented celebrate unique contributions from the country's diverse population and span the nation's most prevalent concerns. The content is applicable to readers of varying political persuasions and the material comes alive through four color authentic images, and accessible graphics and illustrations. 
Download a sample of the book by clicking here.
"The most important thing humanity can do is believe in itself. That we can grow, we can change, we can rouse ourselves in time to make big changes happen. Dream of a Nation encourages movement in this direction. It offers hundreds of ideas and examples of how smart, committed and daring we can be and is a treasure house of actions that have been shown to work, with pages of information, comprehensible illustrations, and faces of hope." – Alice Walker
Economics Unmasked
From Power and Greed to Compassion and Common Good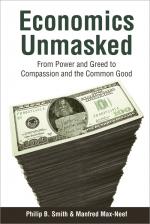 On Sale for 25% Off
The economic system under which we live not only forces the great majority of humankind to live their lives in indignity and poverty; it also threatens all forms of life-indeed life itself. Economics Unmasked presents a cogent critique of the dominant economic system in order to help transform our society into one in which all forms of life will be protected.
Here's what others are saying:
"It is rare in the world today to find people willing to speak the truth. More often then not, most of us simply go along with the crowds and compliment the emperor on his new clothes, despite
the fact that he is naked.
Author Video – Democracy NOW
We  worry that if we speak the truth, we will be ostracized for going against popular opinion, or be labeled stupid or ignorant. It is that fear that keeps us from reaching the wisdom we need to see things they way they really are and become courageous enough to be able to speak that truth and act accordingly."
Click here to continue reading the Ecological Leadership review.
Thinking in Systems
A Primer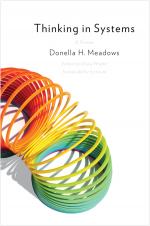 Get it for 25% off
Some of the biggest problems facing the world-war, hunger, poverty, and environmental degradation-are essentially system failures. They cannot be solved by fixing one piece in isolation from the others, because even seemingly minor details have enormous power to undermine the best efforts of too-narrow thinking. 
In a world growing ever more complicated, crowded, and interdependent, Thinking in Systems helps readers avoid confusion and helplessness, the first step toward finding proactive and effective solutions.
"When I read Thinking in Systems I am reminded of the enormity of the gap between systemic thinkers and policy makers. If this book helps narrow the gap, it will be Dana's greatest contribution."—-Lester Brown, Founder and President, Earth Policy Institute Deep Economy 
"Required reading for anyone hoping to run a successful company, community, or country… The best book of its kind."—-Hunter Lovins, founder and President, Natural Capital Solutions
Check out the public collection of the work of Donella Meadows – 15 years worth of essays published as the award winning weekly Global Citizen column. 
The End of Money and the Future of Civilization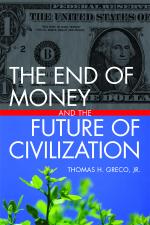 Get it for 25% off
Thomas Greco provides specific design proposals and exchange-system architectures for local, regional, national, and global financial systems. He offers strategies for their implementation and outlines actions grassroots organizations, businesses, and governments will need to take to achieve success.
Ultimately, The End of Money and the Future of Civilization provides the necessary understanding- for entrepreneurs, activists, and civic leaders-to implement approaches toward monetary liberation. These approaches would empower communities, preserve democratic institutions, and begin to build economies that are sustainable, democratic, and insulated from the financial crises that plague the dominant monetary system.
Check out Thomas Greco
"A stimulating and well-balanced work. Here, the serious student of monetary reform will find the mature reflections of a leading advocate of credit clearing. Thomas Greco's analysis of the modern monetary problem is excellent, his solution is practical and founded upon basic principles of justice. Policy makers and communities across diverse cultures and religions can learn much from this detailed and eloquent book. I strongly recommend it." —- Tarek El Diwany, author of The Problem With Interest

---