Less than one week remains before the 2012 elections. Last month we rounded up the ballot initiatives we're most concerned about. How are these campaigns faring as the final weeks pass? Here's a quick update on key issues important to the sustainably-minded.
THE FIGHT AGAINST GENETICALLY MODIFIED FOODS HEATS UP IN CALIFORNIA
The biggest issue facing homesteaders and anyone who cares about the state of agriculture today is encapsulated by California's Proposition 37. This bill is the first serious ballot initiative ever to insist that foods containing genetically-modified organisms be clearly labeled so that consumers can choose whether or not we want to eat them.
For months, the pro-labeling cohort in California was polling way ahead of the opposition — but since the opposition is funded by big biotech corporations to the tune of millions of dollars, that overwhelming support has been eroded by misleading TV ads and even by illegal tactics such as impersonating government agencies in mailings.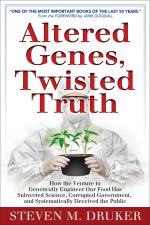 Luckily, there's still time to convince voters that the bill is important, and even if you don't live in California you can help! Volunteer to phone bank for the issue, calling undecided voters and convincing them to vote yes on Prop 37. Find more information here.
Chelsea Green carries a number of books and DVDs on the trouble with GMOs. Author Jeffrey Smith's books are still some of the best available, and his filmed talks are informative and inspiring. Take a look at the book Genetic Roulette, the DVD of the same name, and Seeds of Deception.
Coming next spring, Steven Druker's new book Altered Genes, Twisted Truth will be another great resource for the movement. Currently, the first eight chapters of the book are available as an ebook sample, available for Kindle, Nook, and Kobo.
POLLS SHOW WIDESPREAD SUPPORT FOR MARIJUANA DECRIMINALIZATION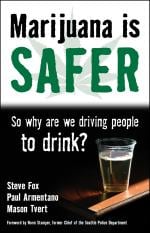 Marijuana is Safer argues that the public health problems caused by alcohol are far worse than those caused by pot, yet pot users are treated like criminals law enforcement. It doesn't make sense, and for years campaigns to decriminalize the use of marijuana have been popping up across the nation. This year, according to NORML, polls are showing that many of the initiatives have enough support to pass. Of particular interest in 2012 is Colorado's Amendment 64. From author Paul Armentano's organization NORML:
"NORML enthusiastically endorses the Amendment 64. It restores the rights of adults who find marijuana a safer alternative to alcohol and tobacco. It preserves the rights of patients for whom marijuana is a safe and effective alternative to potentially addictive and fatal prescription drugs."
Is there a measure on the ballot to end the war on pot in your state? Take a look at the various campaigns listed by NORML, here.
BINDERS FULL OF WOMEN?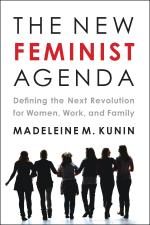 Women's rights are, unfortunately, up for grabs this election year as well. Not directly, but if you believe the campaign rhetoric then a vote for Mitt Romney for President is a vote against the historic Supreme Court decision Roe v. Wade. Not to mention conservative lawmakers continued absurd failure to grasp basic biology, or the fact that rape is — quite simply — a terrible crime.
Women's rights issues are family issues, as President Barack Obama has been repeating for weeks. Madeleine M. Kunin's book The New Feminist Agenda comes from exactly the same standpoint: in order to ensure women are treated equally, their role as family caretakers must be acknowledged and accommodated. For far too long women have been forced to make the impossible choice between career and motherhood. It's time to re-imagine what equality looks like, and although we're not in the business of endorsing candidates around here, we think it's fairly clear that America isn't going to solve these problems with nothing but "binders full of women."
Corporate head offices full of women, Senate seats full of women, heck, even an Oval Office full of women? Now, that might do the trick.
ON POLITICS AND POWER IN GENERAL…
The national elections are filling the airwaves with "stuff", as Joe Biden so politely put it in the Vice Presidential debate, but the high-rolling, high-tech campaigns are not the only realm of politics — and the power struggle embodied by the Democrats and Republicans is not the most important battle.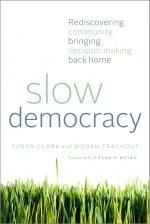 Chances are your hometown has some decisions to make too. Our new book Slow Democracy is a breath of fresh air in these times. An excerpt recently posted on CommonDreams explains the concept here.
"We propose Slow Democracy.  We recognize that the term is its own punch line: isn't government agonizingly slow already?  Joking aside, our democracy has much to learn from the paradigm shift of the various "slow" movements.  Instead of seeing politics as the exclusive province of Washington, we should focus on the democratic possibilities in the neighborhoods and towns right where we live.  Local communities have the ability to address fundamental issues and create real change. Many of them have already done so."
Read the rest of the excerpt at CommonDreams.org.
Never forget, even when you're asked to make an absurd choice between an unsatisfying and deceitful incumbent, and a duplicitous, cynical newcomer, real power comes from within.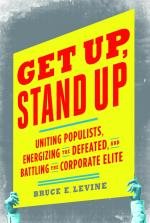 Bruce E. Levine articulates this in his latest book Get Up, Stand Up: Uniting Populists, Energizing the Defeated, and Battling the Corporate Elite. His recent article made waves online by asking the question, why are Americans so easy to manipulate?
The answer, according to Levine, traces the dodgy history of behaviorism in psychology, which rose alongside the consumer culture we're so enmeshed in today.
"The corporatization of society requires a population that accepts control by authorities, and so when psychologists and psychiatrists began providing techniques that could control people, the corporatocracy embraced mental health professionals."
Read the entire article here.
Levine's ideas touch on controversial subjects such as the likely uselessness of psychiatric drugs, and the collusion of government with corporate oligarchs, but his message is empowering. If we open our eyes, come together, and stop accepting injustice, we can win, and we can fight for a better world than any political campaign is selling.
---