Producer Phoebe Judge talks with Edward Hoagland, the author of more than 20 books of memoir, essays and novels. He is an acute observer of nature and human nature and he talks about growing up with a stutter and using the natural world to help him find his voice.
Called the best essayist of his time by luminaries like Philip Roth, John Updike, and Edward Abbey, Edward Hoagland published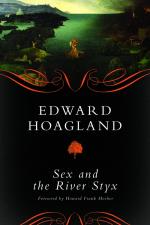 , a collection of essays on aging and love, with Chelsea Green last year.
Just last month, Hoagland was awarded the prestigious John Burroughs medal for nature writing.
Talking to The Story, Hoagland speaks about dealing with his stutter, and what he learned in one of his early jobs, working with animals at a circus.
The segment on Hoagland starts just beyond the half-way point in the overall piece.
---