Homage to Chef Kurt Michael Friese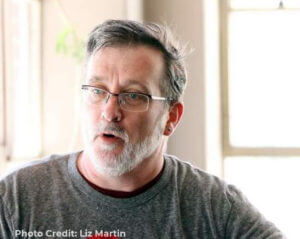 Chef Kurt Michael Friese, a Chelsea Green author and  friend to staff, contributors and readers, died at age 54  in his home in Iowa City, Iowa.
It would be hard to find a more multi-talented and compassionate individual in America's heartland. A tireless innovator and promoter of Iowa's non-profits and for-profits, Kurt was a pivotal personality in the revitalization of the Hawkeye State's food system. He wrote columns in newspapers, founded and edited Edible Iowa River Valley magazine, solely authored Slow Food in the Heartland, and was lead co-author of the Chelsea Green Publishing book, Chasing Chiles: Hot Spots on the Pepper Trail, contributing all of the recipes therein.
And yet, Kurt was far more than just an observer of the growth in the slow food movement; he was a cutting-edge practitioner as well. He his wife Kim, and son not only ran two Iowa City restaurants, but for several years he assisted Kim as she personally managed a massive garden to provide the restaurants with fresh greens and vegetables. In other words, Kurt and Kim walked the talk, the tapas and the tacos.
F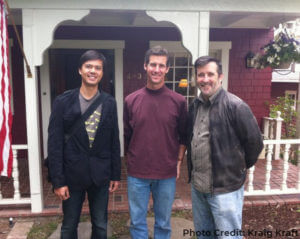 rom his time at NECCI in Vermont through his residency in Iowa, he befriended many of the farmers, bakers, distillers and foragers. Many of them were featured in his Edible magazine, but also used his influence in the Iowa River watershed to help them recover from disastrous floods that hit its farmlands in 2008.
He eventually became involved in shaping public policy of food and environmental issues in his county, and was elected a County Supervisor by his peers, an office he held until his passing.
Kurt was also a scholar, sharing with his mother a love for investigating the lexicon of food, and the cultural diffusion of recipes and food preparation techniques. Widely-read and widely-traveled, his greatest love remained in the heartland, as he participated both as a bicyclist and chef in RABBRAI, the (Des Moines) Register's Annual Great Bicycle Ride Across Iowa.
Anyone who knew Kurt as a friend felt his warmth, generosity and desire to find shared interest and values that spanned the usual divides between left and right, urban and rural, farmer and chef, scholar and activist, U.S. citizen and statesman-at-large in the wider world.
We will miss this great soul, but his inspiration will continue to move and inspire thousands of us whom he touched with his wit, wisdom and culinary talents.
Gary Paul Nabhan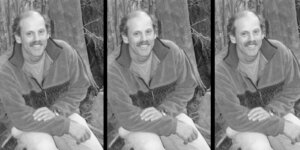 It is with great sadness that we announce the passing of Matthew Stein, author, environmentalist, MIT-educated engineer, green builder, and beloved member of the Chelsea Green family. Matthew died on December 19, 2018, while out in nature pursuing one of his many passions, rock climbing. In 2000 Matthew published his first book with Chelsea Green,…
Read More