8 Must-Read Books for Your 2019 Reading List
Are you new to the Chelsea Green community and aren't sure which book to read first? Or maybe you're a long-time fan and want to continue your binge-reading but need some fresh ideas. Regardless of how you got here, we can help! From the enlightening and thought-provoking to the quirky and fun, we, the Chelsea Green employee-owners, have the perfect list to get you started on your next read!
And if these aren't quite enough you can check out our full list of picks here!
---
Lessons in Resilience Collection

    Recently, author Michael Foley (Farming for the Long Haul) included this Wendell Berry quote in an email he sent me: "Expect the end of the world. Laugh. Laughter is immeasurable. Be joyful though you have considered all the facts."

Berry's words informed my recommendation of these three titles—all of which focus on resourcefulness, self-reliance, and resilience while accepting that we live in uncertain times. More succinctly (and here I'll quote hip hop artists Cypress Hill):

"When the st*t goes down, you better be ready."

Read these books. Study them. Keep them close at hand. With a little bit of knowledge and preparation, it will be easier to laugh at the absurdity of it all.

—Sean Maher, Director of Marketing
---
The name of my wedding DJ was "Super Flying Beaver," so I was drawn to this book from the very beginning. And, it did not disappoint! Full of fun beavers facts that make for lively conversation at any cocktail party, Eager by Ben Goldfarb is not only an entertaining book, but shows us how beavers can play an important role in helping to solve some of our most pressing environmental problems.

—Christina Butt, Senior Book Strategist
---
My current favorite book is Mesquite: An Arboreal Love Affair by Gary Nabhan. Gary is a gifted and prolific writer, but this book, like Gary himself, is entirely unique. It's a fascinating natural and cultural history of the amazing and resilient mesquite tree, wrapped in an often goofy, pun-filled barrage of personal stories and tales of metamorphosis from deep in the Sonoran Desert.

In this sense, Gary belongs to the proud tradition of environmental heroes and writers like Edward Abbey, who have found both truth and humor in the stark beauty of this arid landscape. Plus, who can resist a book with a foreword by someone named Petey Mesquitey?

—Ben Watson, Senior Editor
---
A daring, brilliant work of research bringing to light a dark and alternative history of America's pursuit of oil, while examining the origins and consequences of our reliance on fossil fuels. From its earliest days drilling in Pennsylvania and its heydays brought on by the advent of Ford's automobile assembly line, to the many wars it has spawned spanning the last hundred years, Auzanneau follows the U.S. oil industry and its magnates from John D. Rockefeller to David Koch, uncovering its real story of fortunes gained and lost, environmental degradation, war, and the ever-increasing and enormous ecological and social consequences it has exacted.

—Steven Pomjie, Director of Publicity
---
This was my first acquisition at Chelsea Green, and the author (Harvey Ussery) was a joy to work with. At the time I had just moved from New York City and was raising over 150 chickens on my homestead, and editing became a deep learning experience for me 'in the field' as well. This book represents to me the depth and magnitude of a Chelsea Green book, even in the super-focused niche that is poultry.

My chickens thank me every day.

—Makenna Goodman, Senior Editor
---
As a food magazine connoisseur, Sara Bir is a household name. I've been reading her content in Paste for years and always looked forward to her useful nuggets of trivia-night worthy info, so imagine my delight when I learned that she was publishing a book with Chelsea Green.

The Fruit Forager's Companion is witty, fun, and encapsulates Bir's voice and wisdom perfectly. I laughed and I learned, and I hope others will, too!

—Charlotte Lyman, Digital Marketing Specialist
---
Sy Montgomery and Elizabeth Marshall Thomas are both brilliant, compassionate women leading fascinating lives—getting to work with them has definitely been a highlight of my time at Chelsea Green!

This fascinating collection of essays offers insight into the lives of our fellow creatures, from water bears to cats and dogs to great white sharks.

—Joni Cushman, Author Events Coordinator
---
Year-Round Indoor Salad Gardening

Gardening—the word itself implies a challenge. Yet somehow in clear and simple terms enhanced by beautiful color photos Peter Burke turns the challenge into an invitation down the sprouted road to success.

This complete garden novice accepted his invitation and to my amazement was indeed rewarded with nutritious greens in less than 10 days just as promised! Without leaving the house I not only cultivated wonderful greens but a great sense of personal satisfaction at being able to make this healthy contribution to the family diet in such an efficient, practical and low-cost manner.

The book is a home-grown gem.

—Elizabeth Babcock, Fulfillment & Distribution Assistant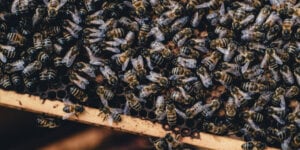 Spring is here and I don't know about you, but I can't wait to get started on all of the projects I mapped out during the cold winter months – including trying my hand at incorporating bees into my homesteading adventure! As a new-bee (get it?!), I need help to get started so I did…
Read More