How Would You Change the World with 20,000 Twitter Followers?
To celebrate Earth Day, Chelsea Green Publishing is doing something a little different, something that, perhaps, has never even been done before. We are giving away Twitter followers—20,600 to be exact.
Over the years, through our @GreenTweet handle, we have developed a community of people interested in sustainability by sharing green tips, techniques, and inspiration.
As part of our yearlong 30th anniversary celebration, we've decided it's time to pay it forward and pass that community on to a worthy advocate.  We are launching an open call for a socially conscious individual, organization, or business whose mission is focused on sustainability to take over the @GreenTweet Twitter handle.
The challenge is to turn those 20,000+ followers into 200,000, or why not go for 2M. Here at Chelsea Green we like to think big, so go ahead, show us what you've got to help make the world a greener and more just place to live.
And, for folks who've come to look to @GreenTweet for all things DIY from our authors, don't fret. We've been adding a lot of that DIY, hands-on content—book excerpts, videos, and more—to our @ChelseaGreen Twitter feed so we can have all of our great offerings provided by one, simple channel.
Here's How to Win
1. Fill out this entry form.
2. Tweet this message: "I just entered @ChelseaGreen #MyGreenTweet giveaway to takeover @GreenTweet incl all 20K followers. Interested? http://goo.gl/gUAFIP
3. Throughout the submission period, keep in touch by tweeting @ChelseaGreen messages, videos, images, and links that demonstrate your vision for @GreenTweet. Include examples of what kind of content you will share and how you will use this platform to motivate others and spread the word about sustainable living. Make sure to use #MyGreenTweet in all posts.
4. Periodically we will tweet questions and challenges to help us select a winner, so keep an eye on the @ChelseaGreen twitter feed for updates.
The submission deadline is June 18. We will announce the new owner of @GreenTweet on July 2, 2014—our official 30th anniversary. In addition to the followers, the winner will receive a collection of Chelsea Green books that are sure to inspire future projects and activism.
Get your green on and start tweeting for your chance to win. Good luck!
The Fine Print:
Chelsea Green will make every good-faith effort to contact the winner. Any winner whom we are unable to contact in a reasonable amount of time will lose their claim to the prize and Chelsea Green will award that prize to the next runner up. In the event that a winner is not declared, @GreenTweet will be retained by Chelsea Green. Unfortunately, Chelsea Green cannot be responsible for any technical problems in email transmissions. Once you fill out the entry form, you will receive a confirmation screen that your entry has been submitted. We will inform you via direct email on July 2nd if you have won.  Thanks for your participation!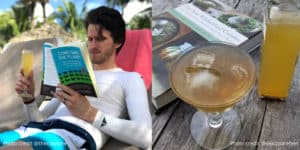 Wondering what to read this summer? Don't worry, we have you covered! Grab your towel and claim the best pool chair or relax at your homestead with one of these perfect summer reads. Whether its nature reads, to healing your gut, everything wild, or inspirational books you'll have your nose in a book all summer long…
Read More