The Six Pests Plaguing your Fruit Trees — and How to Control them Organically
If you grow fruit, you know you're creating something delicious when the entire natural world sets its sights on your apples, peaches, and pears. You're up against a vast and devastating army of insect pests, and if you're committed to growing organically, conventional sprays and treatments are out of the question. But you're not powerless in this worthy fight. And you're not alone.
Michael Phillips, author of The Holistic Orchard and the classic book The Apple Grower, as well as star of the new DVD Holistic Orcharding with Michael Phillips, knows what you're up against. He also knows that the only way to win the war of organic growing, is to pick your battles with the myriad insect enemies you face.
In this excerpt from The Holistic Orchard, Phillips explains the six most common pests you're likely to encounter in the organic orchard. You'll learn what they look like, what they're after, whether they're worth fighting at all, and how to do so without disturbing the precious balance of beneficial organisms that make a holistic orchard work.
---
Bugs and More Bugs: An Excerpt from The Holistic Orchard by Chelsea Green Publishing on Scribd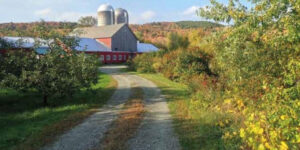 John and Nancy Hayden have spent the last quarter century transforming their organic vegetable and livestock operation into an agroecological, regenerative fruit farm, nursery, and pollinator sanctuary. They call it The Farm Between, and as we walk among the diverse medley of wildly burgeoning shrubs and trees, it becomes clear that the name is much…
Read More