Celebrate Agricultural Literacy Week with NOFA-VT: November 18-24

This week, our friends at NOFA-Vermont are celebrating Agricultural Literacy Week.
It's an opportunity to encourage knowledge and understanding of agriculture in Vermont's schools and communities. But where to start? We're glad that you asked.
For nearly three decades, Chelsea Green's books on food, gardening, and agriculture have been staples for any literate locavore's bookshelf. Here are some of our recent additions to our long list of titles that will help deepen your knowledge and expand your skills.
Start with The Organic Seed Grower and The Organic Grain Grower–complete guides on cultivating from the ground up. These books provide in-depth, how-to techniques from two longtime experts, John Navazio and Jack Lazor.
If it's a holistic and whole systems approach you're looking for — check out Ben Falk's The Resilient Farm & Homestead , or Carol Deppe's The Resilient Gardener.
If you're more of a visual learner than be sure to check out Holistic Orcharding with Michael Phillips DVD for a dose of inspiration. Michael explains how to care for your orchard in every season.
Finish your journey to the agricultural book world with Market Farming Success, Gaia's Garden, and Rebuilding the Foodshed.
Of course, no bookshelf is complete without one of Eliot Coleman's books: The New Organic Grower is a perennial favorite of newcomers and old-timers alike, as is his full-color book, The Winter Harvest Handbook.
These books are sure to increase your agricultural literacy, as well as the literacy of your friends, family, and neighbors. Be sure to share the your knowledge.
How do you think we should be celebrating Agriculture Literacy Week? Share your ideas with us on Twitter and Facebook.
Happy Agricultural Literacy Week from the folks at Chelsea Green Publishing!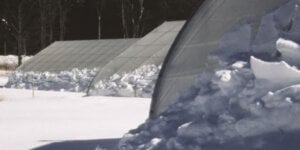 It might seem like a myth that you can grow food in an unheated greenhouse during the winter, but we're here to prove you wrong. As long as there is sunlight there are several techniques you can use to keep your crops warm enough to harvest well into the cold weather. The key? Layers. Just…
Read More