We Have a Love of Money, Why Not a Money of Love?
Hazel Henderson, author of Ethical Markets: Growing the Green Economy, is mentioned in this interesting article on how love affects the economy. Like many feminist thinkers, Henderson points out the staggering amount of unpaid, un-valued work that is done by homemakers (men included).
What would our economic stats look like if we included this, and other work done out of love, instead of ignoring it?
From JustMeans, by Reynard Loki.
Love may be a hot commodity, but we don't recognize its true economic value. We are the poorer for it
The average person celebrating Valentine's Day will spend $126.03, the highest in the 10-year history of the Valentine's Day Consumer Intentions and Actions survey, conducted by BIGinsight for the National Retail Federation (NRF). With an increase of 8.5 percent over last year, total spending on our "better halves" is expected to hit $17.6 billion.[1] That's more spending in a single day than the GDP of nearly 100 nations, including Afghanistan, Uganda and Zambia.[2]
"As one of the biggest gift-giving holidays of the year, it's encouraging that consumers are still exhibiting the desire to spend on discretionary gift items, a strong indication our economy continues to move in the right direction," said NRF President and CEO Matthew Shay. "Anticipating high foot traffic in the coming weeks, retailers have replenished their inventories and will entice eager shoppers with great deals on everything from special menu items at restaurants to clothing to flowers and, of course, chocolates."[3]
PUTTING A PRICE ON THE ULTIMATE SOCIAL BOND
But while the commodity of love has been crystallized in the West on a single day of the year, love's true intrinsic value to society is not part of the economic system. In our fundamentally market-based economy, value is placed on goods and services. But love — in the form of caring and emotional support — is not part of this equation, though ultimately, it is the glue of society. From dyadic partnerships to family groups, from neighborly love to community bonding, from a love of country and ultimately a love of all mankind and nature, this emotion — and all the ways it is manifested — is critical to keeping society intact. Yet somehow it remains outside our economic life, only to pop up in dramatic fashion in the world of retail — primarily on Valentine's Day, but also on Mother's Day, Father's Day, birthdays and funerals.
From credit derivatives to reinsurance, from carbon credits to soybean futures, Wall Street has figured out how to place an economic value on just about everything, including many "things" that aren't things at all, but purely ideas, like loan defaults. But love, which actually provides a real service to humanity (even, arguably, in its most licentious forms), is left outside the purview of financial markets.
VALUES BUILT TO LAST ARE OFTEN BUILT AT HOME
While parents in some countries may benefit from tax credits, society has placed no actual investable value on unpaid household work. We are quick to say that values begin at home, yet we place no financial worth on the work-hours expended to instill those values. As any dedicated parent knows, raising children, preparing them for a productive life in society, teaching them how to be good citizens, all the while being an emotionally supportive husband or wife is exceedingly hard work — and society as a whole is clearly better for it. Shouldn't there be a way to place an economic value on all that blood, sweat and tears?
In his 1977 book The Household Economy, Scott Burns observed that "the hours of work done outside the money economy rival those done inside and will soon surpass them."[4] "We give absolutely no economic recognition to the importance of the one single institution responsible for the day-to-day care and maintenance of human beings. The household — the family — is an institution that tends our hearts, minds and bodies. No other institution has such clear or complete charge or such enormous responsibility. At best, every program of social care and welfare is compensation for deficiencies in some households, and there is no institution, public or private, that could be expected to assume even a small portion of the responsibility that belongs to the household."[5]
THE LOVE ECONOMY
Perhaps love has no place within the "money economy." The late Canadian economic philosopher Samuel Edward Konkin III, author of the New Libertarian Manifesto, proposed the development of a "counter-economics" in which peaceful and decidedly transparent transactions would occur in the "agora," the Greek term for open space that typically meant a public market. His term "agorism" encapsulated the concept of a black or grey market that was outside the regulatory and taxable reach of the corporatocratic state. In such a counter-economy, which might feature local exchange trading systems (LETS) and barter economies, love would be more likely to carry its true weight as a financial commodity as the agora is community-, not state-, focused. Localized production and trade encourages social contact — and that means nurturing the love quotient.
Economist Hazel Henderson, a former Regent's Lecturer at the University of California at Santa Barbara who also held the Horace Albright Chair in Conservation at the University of California at Berkeley, says all this missing value is part of the unpaid "love economy," what she describes as "all the caring, sharing, parenting, volunteering, bartering, reciprocity and mutual aid that buttresses the official GNP-measured sectors of all societies."[6]
In her most recent book Ethical Markets: Growing the Green Economy, she writes, "While economists still count homemakers and stay-at-home moms and dads as 'unemployed and not economically active,' the 1995 United Nations Human Development Report found that this and all other unpaid work amounts to $16 trillion missing from the official global GDP figure of $24 trillion. Represented women's unpaid work was $11 trillion and $5 trillion for that of men. Even today, global economic statistics still exclude two-thirds of the world's output."[7]
COMING OUT OF THE HOUSE: CAREGIVERS
The actual work carried out by the care industry (i.e., daycare, eldercare, home helpers, counseling services, etc.) was once primarily the dominion of unpaid women caring for their families. Today, these are multibillion-dollar industries. In 1997, long-term elderly care annual expenditures in the United States was $115 billion. According to the Kaiser Commission on Medicaid and the Uninsured, that number is projected to triple by 2040, reaching $346 billion.[8]
"Millions of women who used to provide these services free in the home have already moved into the job market to obtain recognition and income," writes Henderson in her 1998 essay "Toward Holistic Human Relationships." "Thus, the monetarizing of formerly unpaid caring work will continue to be the fastest growing services sector, even though…this adds no 'productivity' to the economy, but rather recognizes formerly unaccounted productivity which subsidized the official money-denominated, GNP-measured sector."[9]
THE UNSUSTAINABILITY OF RETAIL LOVE
Whether or not society will ever be able to put a proper value on love, it's clear that the way we have commodified love isn't sustainable. The vast majority of the chocolates that will be purchased for Valentine's Day, for example, are not fair-trade: a mere 0.1 percent of all chocolate has such certification.[10]
Cut flowers are particularly bad for the environment due to their massive carbon footprint. The majority of them are grown in the Netherlands, Colombia, Ecuador, Ethopia, Kenya and India, and then flown in refrigerated airplanes, driven in refrigerated trucks and stored in refrigerators at your local florist, all waiting to wilt. According to a 2008 report by Food & Water Watch and the Council of Canadians, the rise of Kenya's floriculture industry has resulted in "a number of serious ecological problems for Kenya's rivers and for [Lake Naivasha], including loss of water, an unsustainable increase in the population because of the laborers they have attracted, and the overuse of pesticides and fertilizers."[11]
KILLER ROSES, BLOOD DIAMONDS
Every rose has its thorn, and in some cases, it can kill. "[T]he flower industry is so important to the Kenyan economy that in the face of such instability the army and police put most of their resources into guarding flower shipments instead of local people — so that the Valentine's Day delivery could reach European buyers in time," writes Pat Thomas on TheEcologist.org. "Since 2007, your Kenyan roses have come at a cost of more than 100 deaths and the displacement of more than 300,000 people."[12]
And of course, who can forget that unsustainable Valentine's Day mainstay — diamonds, or more accurately, "blood diamonds" and other conflict minerals that have financed wars in Africa for decades. Rebels in Sierra Leone and Liberia financed the Sierra Leone Civil War by trading diamonds for arms. Between 1992 and 2002, around 50,000 people were killed.
"Love is not some complex, mystical abstraction," argued the late Leo Buscaglia (a.k.a. "Dr. Love"), a professor of Special Education at the University of Southern California and the author of several best-selling books on the subject. "It is something accessible and human that we learn through our everyday experience." Buscaglia, known for being a powerful motivational speaker, may have been sugar-coating reality a bit in order to prime the love-in pump. Because as long as something so fundamentally human remains outside the economy — and the way we have commodified it remains unsustainable, childish and in some cases, deadly — it's clear that it will take a lot more than everyday experience to teach us the true value of love.
Reposted from JustMeans.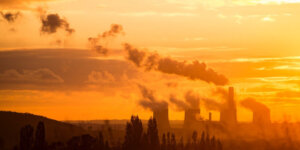 In order to rescue ourselves from climate catastrophe, we need to radically alter how humans live on Earth. We have to go from spending carbon to banking it. A secret unlocked by the ancients of the Amazon for its ability to transform impoverished tropical soils into terra preta—fertile black earths—points the way. The indigenous custom of…
Read More