Power from the People – A Webinar with Greg Pahl
Renewable power is always better than fossil fuel power, but even solar and wind can stir up environmental concerns. Here in Vermont, where ridgeline construction is limited and restricted, residents are increasingly seeing their beloved landscapes interrupted by wind turbines. Meanwhile, activists in the southwest are seeing huge solar installations disrupt the delicate desert ecology.
But these sorts of massive-scale projects are not the only way to do renewables. Small-scale projects that are funded, planned, and supported by local communities are much more sustainable, and, in the wake of Superstorm Sandy may be more resilient to get back online in the event of knockout storms.
This Friday, November 16th, join Greg Pahl, author of Power From the People, for a webinar on the subject. The talk starts at 10 AM PT, 1 PM ET, 18 GMT.
Communities across the United States are taking power into their own hands by organizing, financing, and launching their own local renewable energy projects! In this webinar, energy expert Greg Pahl will describe the best practices and lessons learned from the community-owned wind, solar, and biofuel projects featured in his latest book, Power From the People (Chelsea Green, 2012). Pahl's book is part of our Community Resilience Guide series we're co-publishing with the folks at Post Carbon Institute.
In fact, check out the recent Grist article written by PCI's Asher Miller about just how we can take the lead from Bill McKibben and divest from Big Oil by investing in our own backyards. Miller cites some of the many examples in Pahl's books where communities are already doing this – to much success.
This event will comprise a 30 minute presentation followed by a live Q&A. Join by going here at the time of the presentation where you will be able to login and participate.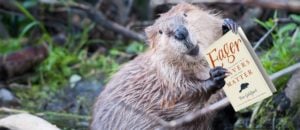 Eager: The Surprising, Secret Life of Beavers and Why They Matter has won the 2019 PEN America E.O. Wilson Prize for Literary Science Writing! A first book by journalist Ben Goldfarb, Eager has received several accolades since its release last year, including being named an Outside Magazine's "Best Book of 2018" and a "Notable Work of Nonfiction"…
Read More