Chile Crisis of 2011 Reveals Need for More Resilience and Diversity on the Farm

by Gary Paul Nabhan, co-author of Chasing Chiles.
What a difference a few days of aberrant weather can mean to our food security, our pocket books, and our penchant for hot sauce. The record freeze that hit the U.S. Southwest and Northern Mexico in early February is still affecting vegetable availability and food prices in general more than 6 weeks after the catastrophe. Restaurants across the U.S. are rationing peppers and tomatoes on their sandwiches and in their salsas. Prices for peppers have jumped as much as 50 percent, and for tomatoes by 15 percent, due to crop damages resulting from the worst freeze in southwestern North America since 1957.
This binational region normally produces well over 90 percent of all winter vegetables eaten in the United States. The cold snap damaged fruits and leafy vegetables from the Imperial Valley of California and the Yuma area of Arizona, clear to Los Mochius and Culiacan in Sinaloa, Mexico.
Open fields in the region suffered damage on 85-90 percent of their peppers, tomatoes, cucumbers, and melons, while those in hoop houses and greenhouses varied in levels of damage from 60 percent to 80 percent, depending on the local microclimate.
And in Florida — the other winter source of these vegetables for American eaters — abnormally cold weather had already disrupted crop production over the previous two months prior to the freeze. As Gregg Biada, vice president of Global Fresh Import and Export told The Packer, a leading reporter of agri-business trends, "Things got really crazy … prices went through the roof."
Continue reading this article at Grist.
Chasing Chiles: Hot Spots Along the Pepper Trail is available now.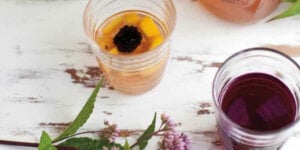 Looking to add another recipe to your fermenting repertoire? Try your hand at kvass. This nourishing beverage calls for just a few simple ingredients and only takes a couple of days to ferment. Use beets or get creative with various fruit combinations like Blueberry Lemon Mint or Ginger Apple Lime. The following recipes are from The Heal…
Read More