Is the iPad the Future of Higher Education? CMTY Interviews DIY U Author Anya Kamenetz

We're just beginning to see the democratization of higher education. That is, a model of higher education that doesn't involve throwing obscene amounts of money at a "prestigious" (i.e., very old) institution that refuses to keep pace with changing times. Author Anya Kamenetz (DIY U: Edupunks, Edupreneurs, and the Coming Transformation of Higher Education) wants education to be open to all, regardless of income, and she's explored the different avenues available to the modern student in 2010—including replacing that $1,000 stack of textbooks with a device like the iPad.
From CMTY (Connecting Me to You):
What got you so interested in this subject?

Right after college I started writing about young people and the economics of the young. I did this book called Generation Debt (Amazon link) which was a lot about student loans and the diseases of being a young person in America. I really started to see that the whole system is broken. You have almost half of the people who aren't graduating. People that start and don't finish. The people that do finish, they don't always feel that their degree connects them to jobs that are going to be relevant or fulfilling.

What are some of the things specifically, that you'd like to see changing in higher education?

Institutions do need to do things differently. I'm really interested in protecting the student. What I'd like to see is students being more empowered to make decisions and make choices through their own personal learning paths. So they have the freedom to more easily combine courses from different areas, different institutions, different subjects, online courses and more experiential learning.

There's a very interesting quote used in your book about how the student has to fill out all this information that reveals their financial status and the institution doesn't have to reveal their financial status or what they're going to use the money for.

They don't even do the accounting. That's what is so crazy about it. There is no real accounting in higher education — they do cost setting accounting. I've heard this from college leaders, it's not just a made up thing. However much money they get, is how much they spend. And they cannot tell you what individual things cost because they just don't break it up.
Read the whole article here.

Related Articles: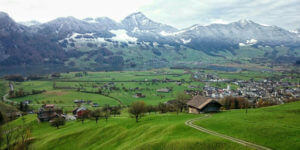 "The movement for freedom from poisons in our food and agriculture is the most important freedom movement in our times. . . . Read the story of Mals to get inspired. And act." —from the foreword by VANDANA SHIVA The recent uncovering of The Poison Papers—a collection of documents revealing years of apparent collusion between companies…
Read More