WATCH: No One Can Be Told What the Gort Cloud Is—You Have to See It for Yourself

Well, that's not entirely true. I'm actually going to go ahead and tell you right now what the gort cloud is.
From Wikipedia:
The gort cloud is the name coined and given to a concept that describes "a vast, largely invisible and growing (environmentally-aware) 'community' that sieves, measures and exchanges information on environmental (green) products and services"…

According to [author Richard Seireeni]: "The inspiration for that moniker lies in the Oort cloud, named after the astronomer Jan Hendrick Oort. The Oort cloud is a vast field of stellar debris that orbits the Solar System. We can only detect it electronically and view its effects, mostly in the form of the occasional comet it tosses back into our neighborhood. This seems to perfectly describe the gort cloud, a vast green network made up of untidy bits that is most easily detected through electronic means and that has a huge effect on the evolution of green business."
With this video from The Brand Architect Group, Seireeni announces his YouTube presence. It may look like bacteria multiplying in a petri dish, or perhaps the DNA of a nanotechnologically-advanced hyper-evolved superorganism, but it's actually an animated visual model of the gort cloud phenomenon, which is described in Seireeni's book, The Gort Cloud: The Invisible Force Powering Today's Most Visible Green Brands. Press play and smoke if you got 'em.
[youtube=zQA9R2MKKvg]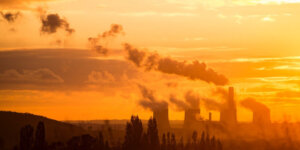 In order to rescue ourselves from climate catastrophe, we need to radically alter how humans live on Earth. We have to go from spending carbon to banking it. A secret unlocked by the ancients of the Amazon for its ability to transform impoverished tropical soils into terra preta—fertile black earths—points the way. The indigenous custom of…
Read More