Unf*ckers United: The Rise, Fall, and Resurrection of Nau Clothing

Richard Seireeni's The Gort Cloud: The Invisible Force Powering Today's Most Visible Brands showcases green businesses that are taking sustainability into the corporate world without compromising their ideals or turning into well-meaning money pits—sustainable enterprises looking at more than just the bottom line.
More information on the "gort cloud," including the etymology of the name, can be found on its Wikipedia page.
The following is an excerpt from The Gort Cloud: The Invisible Force Powering Today's Most Visible Brands. It has been adapted for the web.
Unfuckers United
The Rise, Fall, and Resurrection of Nau Clothing
THE CHALLENGE
The founders of Nau Clothing presented themselves with an enormous challenge. They set out to fashion a technical apparel company on a new model of corporate responsibility that would benefit not only stakeholders but also the community and the world at large. In doing so, they would buck conventional wisdom on how and why to establish a new clothing line in a notoriously difficult market.
THE SOLUTION
Instead of hiring an ad agency to hype its brand, Nau Clothing built integrity into the product, the distribution system, and the corporate blueprint itself. The result was greater differentiation of product and brand, loads of free press, and an image of integrity that was appealing and spread virally among Nau's employees, investors, and core customers. How did it do this?
Nau differentiated itself in a crowded market by building a brand on the foundation of quality, profitability, and sustainability. By targeting key audiences with a message of integrity, Nau built a small but loyal following across multiple fashion segments: sports enthusiasts, fashionistas, and the eco-conscious.
Ahead of its time? Yes. Which may have contributed to the financing problems that forced Nau to close in spring 2008 — only to be resurrected by an angel investor just six weeks later. Innovation was both a risk and ultimately an asset that kept the firm going.
All members of the Nau team were aware of the power of the interconnected green community to help them develop product and get the word out to core customers. Nau was intertwined in the Gort Cloud in innumerable ways, including very direct outreach through its Web site; its blog, called the Thought Kitchen; a digital storytelling venue called the Collective; its monthly digital newsletter, Off the Grid; and its Partners for Change sponsorship program. In fact, it was the trendspotters, bloggers, and green news sites within the Gort Cloud that fairly rang with mourning in the days after Nau's thankfully brief closing.
The power of the company's brand image, goodwill, and loyal following proved to be a critical asset in riding out this rough patch.
Reinventing a fashion business, from the earth up.
Mark Galbraith, then a top product designer at Patagonia, remembers the autumn 2004 call from Eric Reynolds, a founder of the outdoor gear manufacturer Marmot, asking him to lunch. Galbraith knew Reynolds, but not well.
The sushi lunch lasted all afternoon and turned into a dinner of more sushi and sake. The men discussed Reynolds's view that the modern corporation, an entity with great opportunity to do good, was instead often doing great damage. A student of Robert Hinkley's writings on corporate social responsibility, Reynolds explained that he was determined to found a corporation on a business model that would be radically different, a corporation that would give back, that would be responsible not just to the shareholders but to the whole planet. Reynolds was betting on his knowledge of his customers, who were often outdoor sports enthusiasts with grave concerns for the health of the planet. He was betting that there was room for one more active sportswear maker, one with a mission to do it better.
He was planning to launch the new corporate model in one of the toughest industries of all — fashion. He was taking on this competitive and margin-driven business with a new set of rules, rules that he believed would attract customers who love style and performance as much as they love the earth. Reynolds was doing what I recommend as a brand consultant: starting with a core audience and building an offer around that audience. With focus and clarity, a business can stand out and grow organically.
When Reynolds asked Galbraith to review the business plan, dropping it on the table as he rose to go to the restroom, Galbraith saw that the heading stated the company's name, UTW, but gave no indication of what the acronym represented. He had his answer when Reynolds returned to the table wearing a Michael Franti T-shirt that boldly declared unfuck the world.
"He was telling me what the business was about," says Galbraith, who was to become UTW's vice president of product design. "He was saying, 'I'd like you to be a fellow unfucker.'"
UTW's name eventually changed to Nau, pronounced now, which is Maori for "welcome, come in." Nau hoped to unfuck the world in general, and the fashion business in particular. The firm broke considerable new ground before it died and was subsequently resurrected in 2008, and that is why there is much to learn in Nau's story.
Building an earth-friendly brand experience.
Entering the Nau store in Bridgeport Village, south of Portland, you immediately sensed that there was something different going on. The design was sparse, the clothing racks uncluttered. Unique aluminum forms functioned as display tables, and the checkout island dominated the center of the space. Like the kitchen counter in a designer loft, this is where everyone congregated.
Here, at one of the nine stores Nau had opened by July 2008, almost everything was produced from recycled materials, from the hip and styled garments to the graphics made out of recycled cardboard to the display hangers created from recycled plastic. Even the mannequins, traditionally made out of nonrecyclable fiberglass, were resin-based and could be recycled.
"We went through every single element of the store from a sustainability point of view," explains Ian Yolles, Nau's vice president of brand communications. "We needed to function as a retail environment, but we also needed a design sensibility that would reflect the [differentiating attributes of the] brand." Working with local Portland architects Skylab Design, Nau also brought in Green Building Services to help it conform to LEED standards in building this retail showcase, which is arguably the most important touchpoint between an apparel brand and its customers.
The Nau stores turned out to be more than a retail experience. They functioned as an immersive tool that introduced first-time customers to the brand's philosophy, commitment, and sense of style. The stores, along with the Web site, provided copious information about mission, sourcing, manufacturing, care, and reuse, all of which instilled knowledge and brand loyalty. Many companies would love to cultivate this level of loyalty but can't because their attention is too focused on profits, at the expense of ideals.
"Our goal was not to have a sustainable aesthetic so much as a sustainable concept," says Jeff Kovel, the founding architect of Skylab, who views the world of retail rollouts as a throwaway culture. "Stores come into a vanilla shell, rip it out, and start over. They're constantly putting fixtures in, tearing them down, and throwing them away. We thought a lot about how we could change that whole process rather than just use some green materials."
The solution: a prefabricated, component-based environment with fully reusable fixtures that are built off-site, shipped in a flat pack, and assembled on-site in the existing store shell. "We want to be provocative, we want to catch people's attention," Galbraith explains. "You can be environmentally friendly, but you can also be high-performance. You can be all organic, but you're not some crunchy burlap bag all in undyed white heading out to the office. You can be styled and look great." All of this came through in the stores.
Differentiating with style, function, and sustainability in a saturated market.
"There's been very little growth in the outdoor apparel industry," explains Nau CEO Chris Van Dyke. "So there's really little room for somebody new. Even with a good product. Unless you're doing something really new." This warning comes despite the fact that the total value of US-made apparel is around $16 billion and US imports of clothing are around $72 billion, according to Plunkett Research in 2006. The demand for clothing in the United States is huge, but the market is hugely competitive.
Van Dyke worked for many years at Nike and Patagonia after his earlier career in the legal profession, during which he was elected district attorney in Salem, Oregon, at the age of twenty-nine. Bearing a striking resemblance in looks as well as charm to his father, actor Dick Van Dyke, he came out of a "sailing-and-surfing" retirement to work for Nau.
"We still want to appeal to the outdoor market customers, 'cause that's kind of our roots, so our performance focus is there," said Van Dyke when the company was still trying to make a go of it. But, he explained, Nau brings "this element of beauty into it, this design. We include pieces you could wear in New York City to go out to dinner, but are waterproof and breathable and stretch. So you combine this very urban fashion design aesthetic with high performance. And no one's done that in this way."
Indeed, Nau realized that sophisticated activewear customers also want high style. They'll go for that more fitted, slightly awkward look because it's cool and it works technically. Fashion pundits have compared Nau to a fusion of Patagonia and Prada. But the key point the Nau folks didn't miss is that branding and marketing clothing comes down to the clothes themselves. Cool and distinctive clothes are their own best promotion, garnering free media exposure in channels that are respected and trusted by customers — like the Internet trendspotters, among whom Nau is a favorite.
"A lot of customers out there have no idea that a sustainable clothing line could look this good or perform this well," Galbraith said of his line. "We want to totally exceed their expectations by introducing them to something that they don't even know exists." This comment contains a cloud of concern. Educating customers to a new category takes energy away from selling the goods.
"If somebody walks by and knows nothing about sustainability, they'd look at this stuff and go, wow, that's beautiful, they'd be quickly compelled to want the product," he continued. "And when you tell them, 'Hey, guess what?' And you went down the list of everything, from how we're set up, to our prices, to what it's made of, what happens to our product at the end of its life, what we are giving back as a company . . . all these things, [they'd] be like, 'You're kidding!'"
Even the design of the company logo was well thought out in terms of functionality. The simple Nau logo is an ambigram, a word that reads the same when rotated 180 degrees. It's a nice touch for clothing, which is often viewed from different angles.
So the driver of preference, the thing that causes a customer to buy this over that, was Nau's style; but the extra kicker was that it was ecofriendly and functional. It might not make a difference in an individual purchase, but it created goodwill and cemented customers to the brand once they chose Nau.
---
Photo courtesy of Nau.com.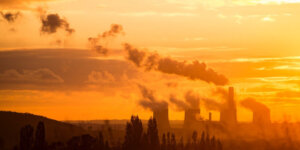 In order to rescue ourselves from climate catastrophe, we need to radically alter how humans live on Earth. We have to go from spending carbon to banking it. A secret unlocked by the ancients of the Amazon for its ability to transform impoverished tropical soils into terra preta—fertile black earths—points the way. The indigenous custom of…
Read More