Green Mountain Coffee Roasters: Turning Coffee into a Cause

Because there's nothing better than coffee on a Monday morning…
The following is an excerpt from The Gort Cloud: The Invisible Force Powering Today's Most Visible Green Brands by Richard Seireeni. It has been adapted for the Web.
Across Vermont, sustainability seems to be on almost everyone's mind. In the west-central part of the state, around Burlington, there seems to be a virtual Gort Cloud stretching for miles, companies and NGOs connecting in all directions.
In Waterbury, where Green Mountain Coffee Roasters is in the center of town and the Ben & Jerry's plant is up the road, the two like-minded companies often come together to promote social and environmental causes. Today a press conference is under way in the Green Mountain Coffee parking lot. Green Mountain Coffee employees hand out free cups of Fair Trade Rain Forest Nut, while Ben & Jerry's employees serve their Fossil Fuel ice cream flavor from a trailer-turned-ice-cream dispenser that has been pulled here by the Ben & Jerry's Lick Global Warming Ford Escape hybrid. It's a very warm day, and the ice cream melts quickly. Several representatives from Vermont-based NGOs are also in attendance.
The rally has been called primarily to urge the Vermont legislature, in Montpelier just twenty-three miles to the south, to override a recent gubernatorial veto of progressive energy legislation. Green Mountain Coffee Roasters has also chosen this moment to cut the ribbon on its new biodiesel tank, which will be used to fill its Waterbury delivery trucks.
The premium coffee landscape.
Paul Comey, Green Mountain Coffee's VP of environmental affairs, calls GMCR "a medium-sized company," with more than a thousand employees and 26.8 million pounds of coffee roasted and shipped annually, as of this writing. It has ridden the wave of growth in the premium coffee segment at the same time that overall consumption of coffee in the United States has been flat. In 2006, Green Mountain Coffee accounted for 1.2 percent of the 2.2 billion pounds in US coffee sales, 7.1 percent of specialty coffee sales, and approximately 10 percent of Fair Trade coffee sales.
The growth in the specialty coffee market is attributable to its spread to fast-food restaurants and convenience stores as well as to the increased demand for specialty coffee in the workplace. Green Mountain Coffee has taken advantage of these trends. Its coffee is featured at bagel shops, delis, and restaurants that compete against large national chains such as Starbucks, and it provides its coffee to offices through distributors, most often using the Keurig single-cup coffee-brewing system.
The total revenue for Green Mountain Coffee Roasters, Inc., in 2007 was $341.6 million, with two-thirds coming from the coffee division under the Green Mountain Coffee and Newman's Own Organics labels, and one-third coming from Keurig, Incorporated. Of the 26.8 million pounds of coffee shipped by Green Mountain Coffee, 7 million pounds went through office coffee service distributors, 6.4 million pounds went to supermarkets, 5.6 million to convenience stores, 5.4 million through food service at restaurants and institutions, 1.2 million through Green Mountain Coffee's Web site and catalog sales, and 1 million pounds through resellers.
"Part of the complexity of our business is that we operate in more channels than most coffee companies," explains T. J. Whalen, Green Mountain Coffee's vice president of marketing. "It's part of our strength — we try to surround the consumer with opportunities to buy our products."
Each channel has its own set of competitive dynamics. When it comes to sales of packaged coffee in supermarkets, Starbucks was on top at $358 million in sales in 2007, but it has recently scaled back retail stores partly due to overexpansion, while McDonald's seems to be ramping up its premium-coffee service.2 Seattle's Best was at $68 million. Peet's was at $61 million; Green Mountain Coffee, $32 million. Dunkin' Donuts, a brand that is considered halfway between premium and commercial, was at approximately $63 million in sales.
Competition from nonpremium, commercial brands comes primarily from Folgers, with $892 million in 2007 revenue, and Maxwell House, with $486 million. While Green Mountain Coffee's sales increased last year, Folgers and Maxwell House saw a decline.
"Consumers in general are trading up," Whalen says. "They're understanding the value of specialty products."
Pushing the environmental agenda for twenty-two years.
"If you're a facilities manager, you're looking at environmental components whether you like it or not," says Paul Comey, who joined the company in 1986. "How do you recycle, how do you deal with the waste stream . . . it's ingrained in you as an integral part of your day-to-day business."
"The bigger you get, the more you understand the scope of your impact. Idling of trucks is bad, but when you look at the number of trucks we have, then you see it's something that really needs to be addressed."
Comey's initiatives have included modification of energy systems to reduce waste, companywide recycling programs, and changes in packaging procedures. Green Mountain Coffee offsets 100 percent of its documented emissions from operations and transportation as well as a portion of indirect emissions related to outbound freight. The offset funds go to varied sites depending on the year. Supported projects have included the Rosebud Sioux Tribe Wind Turbine in South Dakota, a methane-recapture project on a family farm in Pennsylvania, familyfarmer- based renewable energy projects, Midwest farmer-owned wind turbines, and Vermont farmer-owned methane digesters. The funds have also helped retire CO2 offsets that have been generated by the Des Plaines Landfill Project, owned by the Archdiocese of Chicago.
In 2006, Green Mountain Coffee partnered with International Paper to bring to market the Ecotainer, the first petroleum-free disposable to-go paper cup for hot beverages made from renewable materials. The company also offers an eco-friendly to-go cup for cold drinks.
"One of the challenges with this business is that when you get the best packaging for the coffee, odds are it will be bad for the environment. If you get the best packaging for the environment, odds are the coffee will go stale before it's used, unless you're a micro-roaster with very small distribution," Comey explains. "So you're caught between a rock and a hard place."
The company is looking into biopolymer packaging alternatives. "It's something we're tracking very closely," Comey says. Green Mountain Coffee recently introduced new packaging for its Single Origin and Newman's Own Organics lines. The bags use a layer of polylactic acid (PLA) made from corn to replace a petroleum-based layer.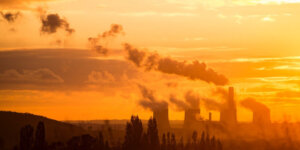 In order to rescue ourselves from climate catastrophe, we need to radically alter how humans live on Earth. We have to go from spending carbon to banking it. A secret unlocked by the ancients of the Amazon for its ability to transform impoverished tropical soils into terra preta—fertile black earths—points the way. The indigenous custom of…
Read More