Diane Wilson Joins International Hunger Strike for Climate Justice

Texas Gulf Coast fisherwoman and environmental activist Diane Wilson wants to leave the world a better place for future generations.
Climate change shouldn't be a political issue. We shouldn't risk destroying our environment because a few short-sighted individuals can't be bothered to transition away from fossil fuels. Diane Wilson knows we can do better, and she's putting her health on the line to prove her commitment to end a problem that may well be the greatest threat humanity has ever faced.
Wilson is travelling to Copenhagen next month to join an international hunger strike aimed at drawing attention to the global climate change crisis.
Reprinted below is the press release from the organization Climate Justice Fast.
Media Release 5 November 2009

For Immediate Release

Texas Gulf Coast fisherwoman and environmental activist, Diane Wilson is travelling to Copenhagen next month to join an international hunger strike aimed at drawing attention to the global climate change crisis.

Described as "a moral reaction to an immoral situation" the hunger strike, organised by Climate Justice Fast, is gaining momentum and attracting a growing number of participants from around the world as heads of state prepare for the long awaited Copenhagen climate talks.

And Diane has joined the front lines.

The shrimp boat captain and activist said the water only fast will begin on November 6 with the conclusion of the current Barcelona climate talks and continue throughout the December climate conference in Copenhagen.

Ms Wilson said she has joined in the fast to draw attention to the seriousness of the climate change, to appeal to world leaders to take immediate action to "do something before it is too late".

"Something needs to be done, and quickly. The line needs to be drawn," she said. "We hold the future of today's children and the next generations in our hands, and it would be a crime to stand by while a problem that we Americans helped create destroyed the planet. It's been said, and I believe it, that our government's lack of real action could go down as the greatest crime against humanity in history, and I don't want to be part of that."

"People from all around the world have joined this fast to appeal to world leaders to take action, and I decided to do my part."

Climate Justice Fast was started in Australia, and has grown to include people from all ages and walks of life in the US, the UK, India, France, Germany, Canada, Australia, South Africa, Belgium, Honduras, Bhutan, New Zealand, and the Philippines.

Organisers say they were inspired by Mahatma Gandhi and Martin Luther King and other leaders who encouraged people to take a moral stand against injustice.

"By resorting to fasting, we're not only sending an alarm, but expressing our hope and belief that there is a deep sense of right and wrong within every person," she said.

"If my action can wake up one person, or inspires someone to do something, it will be worth it".

Anyone wishing to learn more should go to www.climatejusticefast.org

Diane Wilson

361-218-2353

Ends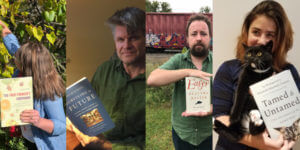 Are you new to the Chelsea Green community and aren't sure which book to read first? Or maybe you're a long-time fan and want to continue your binge-reading but need some fresh ideas. Regardless of how you got here, we can help! From the enlightening and thought-provoking to the quirky and fun, we, the Chelsea…
Read More