Boing Boing: Douglas Rushkoff Reviews The End of Money and The Looting of America
Writing on Boing Boing, "A Directory of Wonderful Things," guest blogger Douglas Rushkoff reviews two new Chelsea Green titles: The End of Money and the Future of Civilization by Thomas Greco, Jr., and The Looting of America: How Wall Street's Game of Fantasy Finance Destroyed Our Jobs, Pensions, and Prosperity—and What We Can Do About It by Les Leopold.
Of the many books approaching this subject matter (I read a ton of them; this one wasn't available yet) this is the most straightforward explanation I've yet seen of everything from usury to inflation, credit clearing to web-based trading, local self-determination to complementary exchanges.

Very few people realize that the nature of money has changed profoundly over the past three centuries, or–as has been clear with the latest global financial crisis–the extent to which it has become a political instrument used to centralize power, concentrate wealth, and subvert popular government. On top of that, the economic growth imperative inherent in the present global monetary system is a main driver of global warming and other environmental crises.
If you're more interested in the recent credit crisis, what really happened, and how we might best respond to the fraud and cynicism that characterized the last few years of banking and policy, check out another Chelsea Green title, Les Leopold's new book, The Looting of America; How Wall Street's Game of Fantasy Finance Destroyed our Jobs, Pensions and Prosperity, and What We Can Do About It. Here's Leopold in his introduction, explaining the growth of the finance industry:

The financial sector, up until the 2008 crash, was one of the fastest growing sectors of the economy, generating approximately 20 percent of our gross domestic product. It also accounted for 27.4 percent of all corporate profits. Finance grew as manufacturing declined, thereby dominating the real economy. According to the Bureau of Labor Statistics, in 1940 there were 7.1 manufacturing jobs for every job in the financial service industries. The ratio increased to 7.7 in 1950. Then the slide started, as you can see in chart 1 . By November 2008, there were only 1.6 manufacturing jobs per financial services job. Until the current meltdown, the financial industry produced almost 10 percent of all the wages and salaries in the country, up from 5 percent in 1975. In a few years, provided that the system doesn't collapse entirely, the finance sector is going to be larger than the manufacturing economy.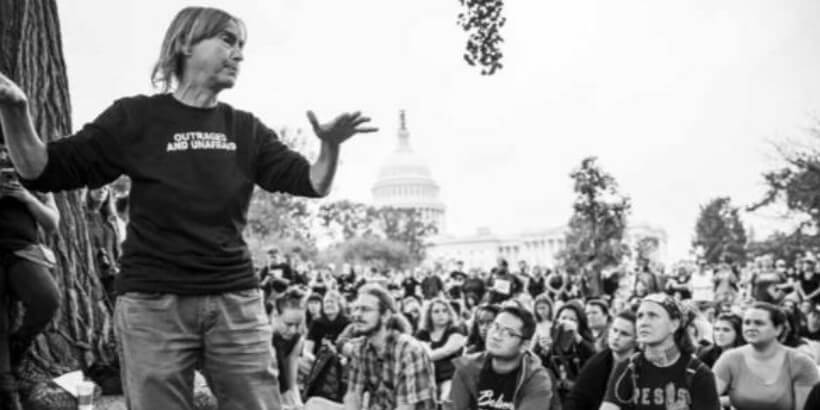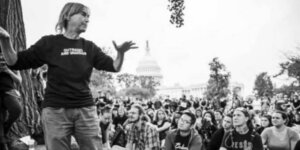 Lisa Fithian has shut down the CIA. She has disrupted the World Trade Organization and camped in a ditch with Gold Star mom and protester of the Iraq War, Cindy Sheehan. She has stood her ground in Tahrir Square, occupied Wall Street, marched in the streets of Ferguson, and walked in solidarity with tribal leaders…
Read More