Start Anew: Become a Honey Farmer

In The Graduate, starring Dustin Hoffman, the future was plastics. Well, that may have been true in the 60s. In 2009, however, the future is in food. Young people all over the world these days are choosing the farm over the hi-rise office life, and with good reason. With the current economic climate in mind–what looks more sustainable to you?
Just do it. Become a farmer. And for those who think farming is cows and chickens, hay wagons and piles of poop: think again. While that is true in certain cases–it's not the rule. You can farm HONEY.
I'm pretty sure there's nothing more appealing than a honey farmer. And now is the perfect time to consider starting your own bee business. So if you want to change your life, make some money, learn how to cultivate bees, and become a producer of the world's tastiest goodness, then read on. Pooh would be proud.
The following is an excerpt from Natural Beekeeping: Organic Approaches to Modern Apiculture by Ross Conrad:
Read not to contradict nor to believe, but to weigh and consider.
— Francis Bacon
I did not develop my passionate affection for the honey bee early in life. In fact, other than the occasional sting from stepping on a bee barefooted, or enjoying some honey in my tea, my interaction with the bee world was extremely limited. This changed during the summer of 1989. After moving to Vermont in the winter of '88, I had landed a job at a radio station and was finding it difficult to make ends meet. The rate of pay at my small-town station was quite different from what I had been used to in Manhattan, and as a result, I picked up part-time work from time to time to help pay the bills. That was the summer I met Charlie Mraz.
Charles was in his eighties and still heated his home with a woodstove, as is the fashion throughout the state of Vermont. As a result of his advanced years, Charlie hired me to assist him in stacking the four cords of firewood he had purchased for the upcoming winter. After the work was completed, I asked Charlie if he had anything else I could help him with. He said he didn't, but that he would speak with his son Bill, who might have some work over at the honey house for me.
Charlie had moved to Vermont in the late 1920s and had started a beekeeping business called Champlain Valley Apiaries. He had gone on to build the company up into the largest beekeeping outfit in Vermont that kept all its bees within the state. Although Charles was still very involved in the business, some sixty years after its formation, his son Bill had taken over most of the day-to-day activities of running the company. I helped harvest and extract the honey that the bees produced for Champlain Valley Apiaries that summer. After this experience, I started my own disc jockey service and refocused my attention on the broadcast/music industry.
During the winter of 1990–91, I found myself working as the DJ at a nightclub near the Killington ski resort. I was working about six hours every night and had my days available to pursue any interest or activity that happened to strike my fancy. In fact, this was the first time since I had been a toddler that I had my days totally to myself. As a result I found myself doing a lot of thinking, reflecting, and soul-searching. I began to seriously evaluate my life. I also began to read more and was drawn to a book written by a Native American Indian elder named Sun Bear. Sun Bear had founded the Bear Tribe, which sought to teach Native wisdom to anyone who was willing to learn about the old ways that had been handed down to him by his parents and grandparents. This book resonated with what I was feeling at the time, and as a result, I decided to spend a month with the Bear Tribe at their teaching center known as Vision Mountain near Spokane, Washington.
It was from Sun Bear and the Bear Tribe that I received a new appreciation for nature. I began to see how little I had respected and cared for the natural world around me, and I took a vow, to myself, to bring more healing to the earth and, by extension, those around me. While I was with the Bear Tribe, I also had the fortunate opportunity to participate in several American Indian ceremonies. One of these ceremonies was a vision quest. This ancient mystical journey is undertaken as an odyssey of self-knowledge and self-fulfillment—a spiritual journey into the wilderness and the soul. Traditionally boys undertook the vision quest as they made the transition from childhood to manhood. As part of my quest, I sat alone for four days and four nights, fasting, praying, and seeking vision on a mountain where the Bear Tribe's learning center was located. It was during this time, on my second day on the mountain, that a single bee came to visit me. I looked down at one point, and there on my big toe sat a honey bee. How it got there, I do not know. I didn't see it arrive. Nor had I felt its presence on my skin.
Native wisdom teaches that we can learn from everything in nature, so I spoke to the bee and let it know that I was open to learning whatever it had to teach me. The bee then spent about five minutes flying around me, landing occasionally on various parts of my body, before flying off on its merry way. I didn't think anything more of the bee's visit until the next day while sitting in the same spot, when a bee flew by. It came up to my ear and hovered there for a moment, buzzing, and then it flew over my head and buzzed in my other ear before taking straight off to my right, as if it had been on a beeline and my head was in its way. The bee's flight path would have looked like one of those fake arrows that comedians put on their heads to make it look like they have been shot. Whether it was the same bee that visited me the previous day I do not know for sure, but I suspect that it was. It almost seemed as if the bee were trying to speak to me and say, "Now don't forget what I told you yesterday."
I returned to Vermont following my time with the Bear Tribe. I didn't think much more about honey bees until about six months after my return, when Bill Mraz stopped by to see me. This was the first time I had seen him in quite some time. He told me that his primary beekeeping assistant had been badly injured in a car accident and would be unavailable for the remainder of the season. He wondered if I was interested in filling the position on a full-time basis. After some thought, I accepted the offer and spent the next six years receiving a wonderful education in a whole new area.
Not only did I find the honey bees fascinating, but I also became intrigued by the work that Charlie was doing with apitherapy. I was astounded by how effective the various products of the beehive were in restoring health and vitality to individuals with diseases or other health conditions. Charlie had drawers full of letters from people with debilitating diseases who had found relief by using honey, pollen, propolis, or bee venom therapeutically. A typical letter told of a person so crippled she had been confined to a wheelchair for years. Doctors were unable to do much more than relieve her pain and make her comfortable. After apitherapy treatments, she was up and walking around as if she had never been sick in the first place. These stories fascinated me and led me to research how apitherapy worked and why. Curiosity got a firm hold of me, and I began looking into other forms of alternative healing such as homeopathy, herbs, natural foods, and dietary supplements.
All these experiences have nurtured a connection between the honey bee and myself that is deeper and more meaningful than I can put into words. The bees have taught me so much over the years and have brought so many wonderful people into my world. It is my hope that I will always have honey bees around me, until the end of my days. […]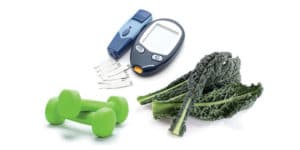 The evidence is clear: We are in the midst of a worldwide diabetes epidemic. In the United States alone, one in three Americans is either diabetic (29 million patients) or prediabetic (87 million patients), costing an annual $242 billion in medical treatments. An integrative approach based on the "eight essentials" of treatment and prevention will…
Read More