Greening Your Office: Cut Costs & Reduce Impact

The following article has been adapted for the web from Greening Your Office: From Cupboard to Corporation: an A-Z Guide by Jon Clift and Amanda Cuthbert.
We spend a large amount of our time in the office, where we use considerable amounts of energy and resources. "Greening the office" will therefore have significant benefits, both environmentally and financially. As many other businesses have experienced, small changes to your office practices and procurements—mostly costing nothing—will reduce the company's expenditure and improve your sales. By being proactive, you stay ahead of impending government legislation, as climate change and mandatory reductions in carbon emissions are being debated. It makes compelling, realistic business sense to green up the office, and helps in our battle with climate change.
There are many arguments for going green in the office:
Minimize overheads by reducing
use of consumables
energy costs
costs of waste disposal
water bills
expenditures on office hardware
transportation bills
parking spaces
Increase competitiveness by:

keeping production costs down as overheads are cut
improving sales as your green credentials attract new customers

Improve investment potential:

increasing numbers of investors who only invest in businesses that have environmentally responsible policies

Create a feel-good factor in the workplace, encouraging staff retention and recruitment
Enhance your reputation and brand awareness
Do your bit to reduce climate change
Getting people on board
Staff are key to the whole process of greening the office. They are an incredible resource, and if asked, will come up with numerous thoughts and suggestions to minimize waste and reduce energy costs.
From the very beginning they need to be part of the process, involved and informed. It is obviously crucial that senior management are also committed to the process — that they "walk the talk" and lead the way.
Motivate staff and colleagues
If your organization is spread across several sites, you can start small in one of them and spread the plan to the others. Depending on the size of the organization and whether all staff work in one place, there are a number of ways to get the ball rolling:
A staff suggestion box
An internal e-mail address
A "green" bulletin board
An intranet forum discussion group
An initial meeting if feasible
Create an "Environmental Taskforce"
Ask for volunteers to set up an "Environmental Taskforce" to involve staff, collate suggestions, and implement realistic ideas. If your organization is large, you will need a coordinator and individuals in each section. If you have a smaller office this could be done by one person.
The environmental taskforce will:
Monitor current practices: for example, sheets of paper used per week, number of staff traveling by car, number of computers left on standby each night, number of lights left on in the office, etc.
Set realistic targets. SMART targets are great to keep in mind: Specific, Measurable, Attainable, Realistic, Time-bound
Start with "easy hit" targets (e.g., reducing paper consumption, recycling ink cartridges, switching off monitors, switching lights off when not needed)
Consider appropriate incentives: a carrot is better than a stick!
Nominate individuals within the team to monitor progress on each project being tackled
Keep the communication flowing. It's crucial to keep everybody well informed and up to date regarding targets set, achievements, and any problems encountered
Let the outside world know what's happening. Use the process to everyone's advantage; use in-house journals, the press, your Web site, and local TV and radio — and tell your customers. Greening up is great PR.
Celebrate success. Think up intriguing and innovative ways to mark milestones
Keep the momentum going. Once "easy hit" targets have been achieved and the workforce is motivated and onboard, try for more ambitious (but still SMART) targets
Beware of a false sense of completion — while a few simple "quick wins" are great for morale, they can and frequently do make people think that the job is done
Every individual act makes a difference. Whether you work from home or are part of a global corporation, your actions big and small will contribute to the fight against climate change.
Here are three suggestions to get the "greening" going:
Reduce use of Air Conditioning
Shading your windows (plant trees outside, pull the shades, install awnings, etc.)
Reducing internal heat sources (turn off machines when not in use, use CFL lighting, etc.)
Ventilating naturally (open the windows!)
Running an air-conditioning unit adds on average about
50% to your annual electricity bill.
Reduce Kitchenette Waste
Set up recycling bins.
Begin a compost bucket for coffee grounds, tea bags, food scraps, etc.
Use cloth towels instead of paper.
Buy silverware to keep in the office instead of using disposable plastic.
Reduce the Impact of your Mail

Recycle the junk mail you receive.
Register your business for the National Do Not Mail List (http://www.directmail.com).
Ship internationally using surface mail—which travels by train or ship. Air mail is a huge polluter.
Convert your newsletters to email newsletters.
Good luck! Have fun. Let us know in the comments if you have any ideas for 'greening' your workplace.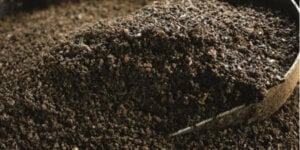 Worms aren't just the squiggly, pink creatures found on the sidewalk after it rains. They are so much more than that. These highly regarded specimens play a vital role in enhancing our soils and revitalizing the health of the plants we need to survive. But how do we get them to work their magic? Through…
Read More