Water water all around, and not a dollar to buy it with

The polar ice caps are melting, but that doesn't mean that the poor of the world will have any better access to clean, fresh water.
Mexico water marches turn violent

Masked protesters have clashed with police at a global conference on water management in Mexico City.

Police detained about 17 people as some rallies turned violent on the second day of the World Water Forum.

More than 120 countries are represented at the conference, which has pledged to focus on ways to improve access to water for the world's poor.

Mexican President Vicente Fox said water needed to be seen as a global heritage to which everyone had a right.

But protesters claim the forum is being held in the interest of big corporations and their profits, rather than that of the poor….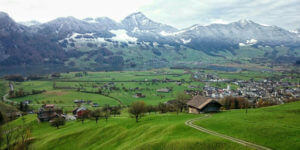 "The movement for freedom from poisons in our food and agriculture is the most important freedom movement in our times. . . . Read the story of Mals to get inspired. And act." —from the foreword by VANDANA SHIVA The recent uncovering of The Poison Papers—a collection of documents revealing years of apparent collusion between companies…
Read More