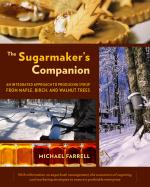 Like this book? Digg it!

Book Data
ISBN: 9781603583978
Year Added to Catalog: 2013
Book Format: Paperback
Book Art: Full-Color Throughout
Dimensions: 8 x 10
Number of Pages: 344
Book Publisher: Chelsea Green
Release Date: October 4, 2013
Web Product ID: 759
Also in Gardening & Agriculture
The Sugarmaker's Companion
An Integrated Approach to Producing Syrup from Maple, Birch, and Walnut Trees
"The Sugarmaker's Companion is an amazing book. It uniquely fills the gaps in currently available maple reference material. It does not repeat what is in the North American Maple Syrup Manual but perfectly supplements it with up-to-date information, fresh ideas, and interesting examples. It also does not try to duplicate the details in the New York State Maple Tubing and Vacuum Notebook and the New York State Maple Confections Notebook but wonderfully adds to the ideas in these areas. It is the first book that integrates the making of other tree-based syrups such as birch and various nut species with the production of maple, improving the efficiency of equipment use and market opportunities. This is a great reference for all tree lovers."

—Stephen L. Childs, New York State Maple Specialist
The Sugarmaker's Companion is the comprehensive guide small-and large-scale syrup producers have been waiting for in their quest to create a profitable business model. Michael Farrell documents the untapped potential of American forests and shows how sugaring can turn a substantial profit for farmers while providing tremendous enjoyment and satisfaction.
Farrell, sugarmaker and director of the Uihlein Forest at Cornell University, incorporates the wisdom of traditional sugarmaking with the value of modern technology (such as reverse-osmosis machines and vacuum tubing). His balanced view of the industry offers a realistic picture of how modern technology can be beneficial—economically and environmentally.
The first book of its kind, The Sugarmaker's Companion includes:
A focus on maple syrup as a healthy, local, sustainably produced alternative to corn syrup and other highly processed artificial sweeteners;
Discussions about organic certification, sugarhouse registration, and the new international grading system;
Information on marketing to create a profitable business model based on scale, interest, access, and more;
Detailed analyses of the economics of buying and selling sap;
Information on ways to process and market other tree saps, including birch and walnut;
Ways to enhance diversity in the sugarbush and interplant understory crops for value-added products such as ginseng, goldenseal, and mushrooms; and,
An economic analysis of utilizing maple trees for syrup or sawtimber production.
In addition, readers and sugarmakers will learn plenty of practical, how-to skills, such as:
If, and on what scale, syrup production is right for them;
How to find trees for tapping;
The essentials of sap collection;
The art and science of sugarmaking;
How to build community through syrup production; and,
Valuable information on ecological forest management and value-added products.
Appealing to foresters, organic farmers with woodlands, homesteaders, preppers, permaculture enthusiasts, and, of course, sugarmakers, this book is applicable to a wide range of climates and regions, and is sure to change the conversation around syrup production and prove invaluable for both home-scale and commercial sugarmakers alike. This is a unique guide to making an integrated sugaring operation, interconnected to the whole-farm system, woodland, and community.