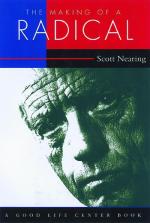 Like this book? Digg it!

Book Data
ISBN: 9781890132590
Year Added to Catalog: 2000
Book Format: Paperback
Number of Pages: 5 x 8, 320 pages
Book Publisher: Chelsea Green Publishing
Old ISBN: 1890132594
Release Date: August 1, 2000
Web Product ID: 294
The Making of a Radical
A Political Autobiography
Preface
Preface to the Original Edition

Many times, through many years, when the daughters and sons and even the granddaughters and grandsons of my contemporaries were writing about themselves, I was urged to do likewise. "You have lived during a critical period of our history," they said. "Why not write the story of your life?"

It is true that I have been living through the harvest time of western civilization. It is also true that biographies and autobiographies make a useful record of the times. But I usually replied that I had a number of more interesting subjects that I wanted to study and put on paper. When I had nothing more important to do I might write an autobiography. Finally, I agreed to write my life story when I reached eighty.

August 1963 rolled around more quickly than I had anticipated. After some delay and preoccupation with other work I tackled the job.

Autobiographies usually report experiences and observations arranged in self-portraits. Autobiography cannot however stop with the self. Each human being feels, thinks, and acts personally, socially, and also as part of the universal whole. Because I live in all three dimensions, this story must touch all three. Hence, my autobiography is not so much the report of an individual life as of an epoch through which an individual has lived.

This is the story of a perilous fight in which I have been engaged for many hard-going years. When I began this fight in my high-school days, I was an inexperienced and callow youth. Today I am rated as an experienced and tough old man. In the seventy intervening years I have done my best to learn, to teach, and to build my ideas into the life of the United States and any other part of the human society that was willing to listen, study, and act.

There is another aspect to my life story. Through the years I have learned certain things, formulated ideas, developed a definite point of view. Further, I have acquired some perception as to what lies ahead: tomorrow and in the next century. I believe that this outlook belongs in any serious autobiography. A large part of my story therefore is a report, not from the bridge, the seat of authority, but from the lookout in the crow's nest, from which the entire horizon can be scanned.

I am on the last lap of a journey that began in 1883. It has been eventful, and has involved opposition, controversy, and conflict. On the rather narrow path that I have followed there were digressions and defeats but not turning back. One thing led on to another; despite opposition and ostracism I had to go forward, even if alone.

Olive Schreiner wrote in her Life: "I think it well to resolve in one's early youth that no good shall ever be good to one which is bought at the smallest price of one's intellectual integrity. The men who hold by this can never be entirely successful in their generation . . . but one never regrets having stood alone."

According to temperament, human beings can be divided into two groups: those who yearn for a comfortable existence and those who revel in a hard life of decision and struggle. The softlivers take it easy and have fun on the principle for pleasure first.

Every generation produces its quota of adventurers and activists: tireless, insistent, and sometimes pestiferous doers. Not satisfied with a soft life, they are ready to climb mountains, rebuild entire cities, or go to the moon. They revel in strenuous, sustained effort. They are up at dawn, spending their days in unending action, their nights in libraries or laboratories. They are not deterred by danger or obstacles.

I have always thrown my lot with hard-livers. I was not born to enjoy myself or to live on the labor of others. I came here to do a job, to do it early and late, with might and main. I assume that ardent endeavor to discover the ideal, and to embody it in individual and collective life, develops the bone and sinew of body, mind, and spirit. This animating force which has broadened and deepened the age-old stream of human culture is now revolutionizing it, and will carry it to higher achievements in the future.

For over a thousand years western man has sowed and tended or neglected his crop, while preparing for the harvest. Current events are the harvest, the logical outcome of our competitive, acquisitive, exploitative society in action. This autobiography sums up my experience and my conclusions concerning the sowing, the care of the crop, and the reaping.