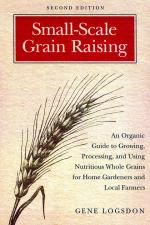 Like this book? Digg it!

Book Data
ISBN: 9781603580779
Year Added to Catalog: 2008
Book Format: Paperback
Book Art: B&W drawings
Dimensions: 7 x 10
Number of Pages: 320
Book Publisher: Chelsea Green Publishing
Release Date: April 22, 2009
Web Product ID: 446
Small-Scale Grain Raising, Second Edition
An Organic Guide to Growing, Processing, and Using Nutritious Whole Grains for Home Gardeners and Local Farmers
"Small-Scale Grain Raising, 2nd ed., is the definitive book on how to grow, thresh, process, and use grains in the amounts that matter to a family--from enough wheat for a single batch of pancakes up to an acre or two--all the grain needed for a family with a cow, a pig, a few sheep, and a flock of chickens. The first edition has long been a cult classic, decades out of print, decades before its time, eagerly begged, borrowed, and handed around in bootleg copies. The second edition is updated and expanded to include virtually every grain grown in North America. Particularly useful is the state-of-the-art information about threshing and dehulling of various grains for those without access to specialized equipment. Even more useful than the specific information, however, is the portrayal of the overall pattern--the full integration of appropriate grain-growing, appropriate cover-cropping, appropriate livestock keeping, appropriate economics, and appropriate philosophy, all woven together into a powerful model of a coherent framework for gardening, farming, and living. This book is the Small is Beautiful of grain growing, by Gene Logsdon, one of the founding curmudgeons of modern garden farming and sustainable agriculture."

—Carol Deppe, author of Breed Your Own Vegetable Varieties: The Gardener's and Farmer's Guide to Plant Breeding and Seed Saving
First published in 1977, this book—from one of America's most famous and prolific agricultural writers—became an almost instant classic among homestead gardeners and small farmers. Now fully updated and available once more, Small-Scale Grain Raising offers a entirely new generation of readers the best introduction to a wide range of both common and lesser-known specialty grains and related field crops, from corn, wheat, and rye to buckwheat, millet, rice, spelt, flax, and even beans and sunflowers.
More and more Americans are seeking out locally grown foods, yet one of the real stumbling blocks to their efforts has been finding local sources for grains, which are grown mainly on large, distant corporate farms. At the same time, commodity prices for grains—and the products made from them—have skyrocketed due to rising energy costs and increased demand. In this book, Gene Logsdon proves that anyone who has access to a large garden or small farm can (and should) think outside the agribusiness box and learn to grow healthy whole grains or beans—the base of our culinary food pyramid—alongside their fruits and vegetables.
Starting from the simple but revolutionary concept of the garden "pancake patch," Logsdon opens up our eyes to a whole world of plants that we wrongly assume only the agricultural "big boys" can grow. He succinctly covers all the basics, from planting and dealing with pests, weeds, and diseases to harvesting, processing, storing, and using whole grains. There are even a few recipes sprinkled throughout, along with more than a little wit and wisdom.
Never has there been a better time, or a more receptive audience, for this book. Localvores, serious home gardeners, CSA farmers, and whole-foods advocates—in fact, all people who value fresh, high-quality foods—will find a field full of information and ideas in this once and future classic.