Foreword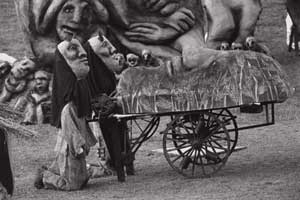 © Ronald T. Simon
There have been articles, a book or two written about the Bread & Puppet Theater and Peter Schumann, the puppeteer, artist, sculptor, dancer, the fellow high up on the 12-foot stilts--or is it sometimes 18 feet? He appears from behind the bright Bread & Puppet bus at the end of the Sunday 3 PM circus to say, "Here I am," and we all applaud and are vigorously happy. But this book in your hands, Rehearsing with Gods, may be the first written by someone who, over the years, has been a participant, a puppeteer, a wearer of dangerous and itchy puppet heads and bodies. This may also be the first book in which text and photographs are of equal weight and beauty in thoughtfulness and importance.

Estrin has also been close enough to be able to provide us with wonderful finds; for instance, an old mimeographed scrap of paper, a note from Peter to the cast, which begins, "Mozart's Requiem pleads mercy for fated souls . . ." and probably continues in order to remind them as they work of one of his important and more hopeful themes. Estrin is able to talk about sign-making, puppet repairs, the carrying of the massive puppet heads across the field. In Ron Simon's remarkable photographs we see these great works and feel the depth and intensity of the labor Peter Schumann demands of the puppeteers and himself.
Bread & Puppet is also a community as Estrin points out--children have grown up in it beginning as a cloud, a bird; graduating to stilt walking higher and higher. My grandson has been drumming since the age of six in the Bread & Puppet band, which sings us into the Sunday circus. It is an adult theater world to which the young are admitted if they are able to be serious, responsible. I believe they are receiving the moral education that does not exist in school or playgrounds. This may not have been Peter Schumann's intention, but it has happened. It is part of the Theater's politics, which are inclusive, radical, unsnobbish and human--what Ron Simon, perhaps not thinking of this aspect, has called a complicity of the humanist and expressionist.
I first met the dignified creatures of the Bread & Puppet in Washington Square about thirty years ago. They were the solemn beasts essential to the performance of Everyman which Bob Nichols had staged on West 4th Street. Not too much later, around Christmas, I was to my surprise one of the "begetters," who walked biblically in and out and around into the light, named, begetting from well before David to Jesus himself.
At that time, which was probably the mid-sixties, the years of theAmerican War in Vietnam, I knew a young man, a resister who refused his army induction. At the War Resisters office, at demonstrations, he was angry, depressed. I said, "Bill Dalrymple, come and be a begetter like me. They're always a little short. It'll change your life." He came to the performance, suddenly felt at home and became an important part of that remarkable theatre, creating puppet shows in France and Canada. Now a little wooden house in the Glover forest tells of his importance to the theater, his unfortunate early death and our remembrance.
He is not alone.
I was one of the people who complained in a judgmental way about the theater's decision to move to Vermont, first to Goddard College, and then to the rural town of Glover. What will they do there? I and other unimaginative city people thought. Well, given a huge outdoor amphitheater, almost anything--grand pageants with acres of entrance for invented ships and armies, air for the great white birds to fly across, and a forest for the mysterious dramas of good and evil that Marc Estrin writes about so well.
The most worrisome change, a revolutionary change in the performing life of the Bread & Puppet, occurred only a few years ago when they became too big for their intentions, which were to be grand but simple, complex but direct. Marc Estrin describes the end of the circus and pageant that in that final summer brought at least 20,000 people from New York, Boston, Vermont, Italy, France. A fight broke out and a man was killed in one of the overnight camps.
At a meeting we heard the decision to end the performing theater as we had known it; we listened to Peter with disbelief. He, who with Elka had been thinking and worrying, described the possibilities of a new theater: No longer requiring that enormous burst of energy and labor once a summer, his resurrected circus would happen on all the Sundays of summer and would require young puppetry apprentices and interns from all over the world, as well as the community puppeteers who all summer would be able to act as stabilizers. There would be other shows. There was still the forest, and the new building. The audience would come hopefully in its hundreds and many again, and again. And so it is.
This theater owes much of its joy to serious Elka Schumann. She has brought a deeper sound, which is voice and music. Plus her own saxophone. Also a sobering critical attention to the shows. She is also the printer and publisher of the posters and little and bigger books that are available in the Bread & Puppet Museum. There, those of us who are old will find old friends, from the grey ladies who led marches in New York and Washington during the Vietnam War, to the darkly clad widows and child buriers of Afghanistan. The White Horse Butcher, The Bird Catcher in Hell, Bishop Romero, the bankers and the maintenance men in their tired kind masks (who are still laboring after all these years to clean up the grassy stage between the circus acts), are all there.
A memory (shared with Marc Estrin): Peter is ascending the rim of the sandpit (in Goddard) on stilts, veiled in a long white gown; he has become Jephtha's daughter walking the Biblical hills, bewailing her virginity; her sacrifice has been promised to God by her father in return for certain victory in battle.
I would like to end this foreword with thanks to Ron Simon for the wealth of photographs--extraordinary images like meditations on how, out of what material, the landscape of the Bread & Puppet Theater is created. He has called it the Whole Theater. And with thanks to Marc Estrin for telling the Bread & Puppet story in his neighborly, yet deeply philosophical, analytical way. Who else would have divided a book into eight sections or archetypes entitled DEATH FIEND BEAST HUMAN WORLD GIFT BREAD HOPE? And of course to Peter and Elka Schumann and to that solid core of puppeteers as I once thanked them in exactly these words: Gratitude for their gifts of labor and beauty from the earliest unknown days on Delancey Street, when we were sometimes fewer than they. To those wonderful summer circuses in Vermont, where we, their co-workers and friends, meet one another in the thousands. And gratitude also for the opportunity generously given to be one of them, an ox, a deer, a stilt walker, a horse, a maintenance man, a washerwoman; and thanks for the music and the tens of thousands of loaves of Bread.
Grace Paley
Thetford, Vermont