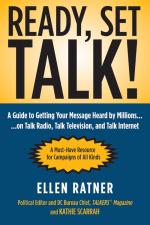 Like this book? Digg it!

Book Data
ISBN: 9781933392219
Year Added to Catalog: 2006
Book Format: Paperback
Book Art: Resources, Index
Number of Pages: 6 x 9, 240 pages
Book Publisher: Chelsea Green Publishing
Old ISBN: 1933392215
Release Date: June 15, 2006
Web Product ID: 311
Also in Politics & Social Justice
Ready, Set, Talk!
A Guide to Getting Your Message Heard by Millions on Talk Radio, Talk Television, and Talk Internet
"Want your project to hit the big time? Read this book and it will!"

—Rick Frishman, author of Ten Clowns Don't Make a Circus and Guerilla Publicity, president of Planned TV Arts
A Must-Have Resource for Campaigns of All Kinds
A complete handbook on using talk media to promote an issue, a product, or a candidate—a guide to success in campaign 2006.
Ready, Set, Talk! will help anyone—from the novice activist to the sophisticated public relations professional—develop a talk media message, prepare a campaign, and roll it out. The authors demystify the process of identifying and analyzing potential media targets and opportunities, and show readers how to develop media events for maximum attention and continuing exposure on talk media.
Rich with real-life examples and anecdotes on how to—and how not to—execute a successful campaign, this revealing media manual pulls no punches. Ratner and Scarrah analyze the conservatives' success on talk media and explain how anyone can do the same, not just by creating their own show, but also by going head to head with others on highly successful existing shows.
Ready, Set, Talk! is a roadmap to putting the internet, podcasting, and videocasting to work for ideas, causes, and candidates. It includes guidelines for print and television interviews; a step-by-step guide to selecting, booking, and preparing a spokesperson; a comprehensive idiot-proof promotional checklist; and advice on how to manage crises in the media.