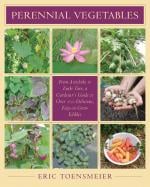 Like this book? Digg it!

Book Data
ISBN: 9781931498401
Year Added to Catalog: 2007
Book Format: Paperback
Book Art: full-color photographs, illustrations, recipes
Number of Pages: 8 x 10, 256 pages
Book Publisher: Chelsea Green Publishing
Old ISBN: 1931498407
Release Date: May 16, 2007
Web Product ID: 162
Perennial Vegetables
From Artichokes to Zuiki Taro, a Gardener's Guide to Over 100 Delicious, Easy-to-Grow Edibles
"Full of surprising edible possibilities, this book 'promotes fresh thinking as to what a vegetable garden can be,' says Doreen Howard. 'This topic is presented in a thorough and engaging way,' says Susan Eubank. 'It teaches responsible gardening practices without preaching,' adds Marty Ross. Gene Bussell notes that the book's production 'reflects Chelsea Green's earth-friendly policy,' while maintaining an overall high quality."

—From the American Horticultural Society's announcement of the 2008 AHS Book Award
ForeWord Magazine: Gold Book of the Year Award for Home & Garden
2008 American Horticultural Society Book Award
The garden that never stops giving.
There is a fantastic array of vegetables you can grow in your garden, and not all of them are annuals. In Perennial Vegetables the adventurous gardener will find information, tips, and sound advice on less common edibles that will make any garden a perpetual, low-maintenance source of food.
Imagine growing vegetables that require just about the same amount of care as the flowers in your perennial beds and borders--no annual tilling and planting. They thrive and produce abundant and nutritious crops throughout the season. It sounds too good to be true, but in Perennial Vegetables author and plant specialist Eric Toensmeier (Edible Forest Gardens) introduces gardeners to a world of little-known and wholly underappreciated plants. Ranging beyond the usual suspects (asparagus, rhubarb, and artichoke) to include such "minor" crops as ground cherry and ramps (both have found their way onto exclusive restaurant menus) and the much sought-after, antioxidant-rich wolfberry (also known as goji berries), Toensmeier explains how to raise, tend, harvest, and cook with plants that yield great crops and satisfaction.
Perennial vegetables are perfect as part of an edible landscape plan or permaculture garden. Profiling more than a hundred species, with dozens of color photographs and illustrations, and filled with valuable growing tips, recipes, and resources, Perennial Vegetables is a groundbreaking and ground-healing book that will open the eyes of gardeners everywhere to the exciting world of edible perennials.