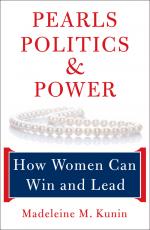 Like this book? Digg it!

Book Data
ISBN: 9781933392929
Year Added to Catalog: 2008
Book Format: Paperback
Dimensions: 6 x 9
Number of Pages: 256
Book Publisher: Chelsea Green Publishing
Old ISBN: 1933392924
Release Date: April 30, 2008
Web Product ID: 347
Pearls, Politics, and Power
How Women Can Win and Lead
Table of Contents
INTRODUCTION
CHAPTER 1: A Life in Politics

Sidebar: Mary Wollstonecraft

CHAPTER 2: The Barriers
CHAPTER 3: How Do You Become a Politician?
CHAPTER 4: Women and Leadership
CHAPTER 5: Yes, Gender Does Make a Difference
CHAPTER 6: On the Inside: Playing by the Rules, Power, and Working with the Jerks
CHAPTER 7: Women Presidents
CHAPTER 8: Being the Leader
CHAPTER 9: A Woman President in the United States?
CHAPTER 10: Women Helping Women Get Elected

Sidebar: Susan B. Anthony & Elizabeth Cady Stanton

CHAPTER 11: Where Do We Go from Here?

Sidebar: Simone de Beauvoir

ACKNOWLEDGMENTS
RESOURCES
NOTES

US Orders Only.
International Orders: Click here.
Additional Information
Madeleine M. Kunin's Upcoming Events
Madeleine Kunin at the Greater Burlington Women's Forum Luncheon


Burlington City Hall, 149 Church St., Burlington VT

March 11, 2014, 12:00 pm

Madeleine Kunin at the Pierson Library


5376 Shelburne Rd, Shelburne VT

March 18, 2014, 6:30 pm

Madeleine Kunin at Champlain College


163 S Willard St, Burlington VT

March 26, 2014, 6:30 pm

Madeleine Kunin at Kurn Hattin Homes for Children


Kurn Hattin Rd, Brattleboro VT

April 2, 2014, 5:30 pm

Madeleine Kunin at the University of Vermont


590 Main St, Burlington VT

April 21, 2014, 5:30 pm