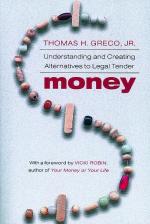 Like this book? Digg it!

Book Data
ISBN: 9781890132378
Year Added to Catalog: 2001
Book Format: Paperback
Book Art: b&w diagrams, appendices, notes, references and sources, index
Number of Pages: 6 x 9, 320 pages
Book Publisher: Chelsea Green Publishing
Old ISBN: 1890132373
Release Date: November 1, 2001
Web Product ID: 135
Money
Understanding and Creating Alternatives to Legal Tender
Introduction
What This Book Contains, and How to Use It

This volume focuses particularly on the creation and control of money, money substitutes, and alternative exchange mechanisms. It is actually four books in one, divided into four parts. While all the objectives are addressed in each and every part, the individual parts tend to emphasize the objectives in the order stated above. I advise you to read the book in its entirety, but depending on your main interests, you may want to read the various parts in a different order from that presented.

Part I is titled, "Monetary Realities and Official Illusions." It explains what money really is, how it is created and extinguished, how it malfunctions, and how it works against the interests of most individuals and communities. It continues with a description of how money has evolved, taking on different forms over time. It explains how these forms have enabled the further concentration of money's power in fewer hands and the erosion of social cohesion, community power, and democratic governance. This is background that I consider important to gaining a proper understanding of the money problem and how communities might cope with it. While I believe that this part should be read by everyone, it could be skipped temporarily by readers who already have some understanding of the nature of the problem and are anxious to get to "the solutions."

Part II, "Complementary Currencies, Past and Present," describes both historical and contemporary currency and exchange alternatives. These descriptions highlight the fundamental features, and the strengths and weaknesses, of each example. Parts I and II together show some of the processes by which individuals and communities have been disempowered, and some local responses that have been effective in restoring community control and economic vitality in the face of centralized power. They set the stage for the more prescriptive community exchange material contained in the remainder of the book. This part, too, might be passed over temporarily by those who already have some familiarity with these topics and wish to get right to the details of community currency design, improvement, and implementation.

Part III, "Monetary Transformation and Community Empowerment," is essentially a primer on community exchange, highlighting the basic design elements and describing various forms, features, procedures, and methodologies. It outlines gentle strategies by which communities can establish equitable, sustainable, and ecologically sound local economies using "home grown" exchange media and participatory methods for the allocation of credit and capital. It also provides in-depth coverage of the why, what, and how-to details. Community activists, organizers and social entrepreneurs will find in this section the meat of the book.

Part IV, "Currency Design, Improvement, and Innovation," continues to build on the material presented in Part III. It contains a number of innovative proposals for currencies, coupons, and scrip that address specific community problems while enhancing community power and strengthening the entire local economy. These models can be adapted to suit local conditions and needs. Social entrepreneurs and community organizers will find much here to stimulate their imaginations.

Throughout this book I will use the term community currency to mean any mechanism, that is under popular control, which provides a means of payment other than official currency.

In this context, the term community is used to describe any association of individuals, groups, or businesses that bind themselves together under an agreement to use an internal payment mechanism. Under this definition, it is clear that a community need not be defined by geographical proximity. It is possible to conceive of a community of traders who are widely dispersed geographically. Indeed, we are seeing the emergence of Internet-based communities in which the transactions take place in cyberspace and participants are scattered all over the world. It is not hard to imagine a payment system that is global in scope and beyond the control of any government or bank. There have already been some interesting experiments with so-called e-cash or cyber cash.

A community currency need not take the form of paper notes. It can be as simple as a set of account pages in a notebook in which the values of trades are recorded. Such a book is called a ledger, and the currency, in that case, consists of the numbers that comprise the members' account balances.

In essence, then, a community currency means that members of the group empower themselves to create their own "money," which they agree to use in paying for purchases made among themselves.

My hope is that readers will quickly grasp the enormous power inherent in these cooperative and democratic exchange arrangements, and that the information and ideas contained in this book will prove useful to others who share my dream of a world that works for everyone.