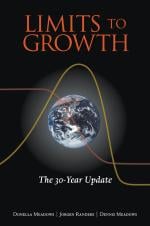 Like this book? Digg it!

Book Data
ISBN: 9781931498586
Year Added to Catalog: 2004
Book Format: Paperback
Book Art: graphs, flow charts, bibliography, index
Number of Pages: 6 x 9, 368 pages
Book Publisher: Chelsea Green Publishing
Old ISBN: 193149858X
Release Date: May 1, 2004
Web Product ID: 10
Limits to Growth
The 30-Year Update
Upcoming Author Events
Donella Meadows's Events
Dennis Meadows's Events
Jorgen Randers's Events
TOKYO, JAPAN

December 6, 2013, 12:00 pm

Jorgen Randers at Hitachi and Nikkei

, Tokyo Japan

Jorgen will give a lecture at Hitachi and Nikkei in Tokyo about 2052 and the future of Japan on December 6th. His talk will be taped for future viewing.

SYDNEY, AUSTRALIA

December 11, 2013, 12:00 pm

Jorgen Randers at the University of New South Wales

, Sydney Australia

Jorgen Randers will be giving a public lecture at the Mathematics of Planet Earth Symposium on Limits to Growth and his book, The 2052 Forecast, at the University of New South Wales in Sydney Australia on December 11-12, 2013.

US Orders Only.
International Orders: Click here.
Additional Information
Jorgen Randers's Upcoming Events
Jorgen Randers at Hitachi and Nikkei


, Tokyo Japan

December 6, 2013, 12:00 pm

Jorgen Randers at the University of New South Wales


, Sydney Australia

December 11, 2013, 12:00 pm