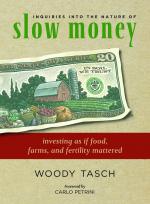 Like this book? Digg it!

Book Data
ISBN: 9781603580069
Year Added to Catalog: 2008
Book Format: Hardcover
Book Art: Illustrations throughout
Dimensions: 5 1/2 x 7 1/2
Number of Pages: 224
Book Publisher: Chelsea Green Publishing
Release Date: November 7, 2008
Web Product ID: 358
Also in Socially Responsible Business
Inquiries into the Nature of Slow Money
Investing as if Food, Farms, and Fertility Mattered
Foreword by Carlo Petrini
Praise
"Woody Tasch has written a genuinely seminal work. It has the irresistible power of an idea whose time has come. The movement begins."

—Beverly Becker, Pesticide Action Network
"It goes along with Small is Beautiful on my 'books that matter' shelf."

—Joan Dye Gussow, Professor Emeritus, Columbia University, and author, This Organic Life
"This book is a ray of light. Hell, it's a lot more than that; it's a whole damned lighthouse."

—Neil Flowers, Feminist Review
"Once in a while, a book comes along that has the potential to change things. This is one such book. It has the potential to unleash a major movement in this country."

—Steve Costa, Owner, Point Reyes Books
"The vision for Slow Money is brilliant. We should all listen to it, and to Woody."

—Paul Dolan, Former President of Fetzer Vineyards and Author of True to Our Roots
"The promise of Slow Money gives us all hope that the post-financial-meltdown economy will be much more grounded in local, community-based, mission-positive enterprises."

—Rian Fried, President, Clean Yield Asset Management
"Slow Money is right on the money."

—Tim Storrow, Executive Director, Castanea Foundation, Inc.
"Woody Tasch has one of those fast minds that always seems to ask the right slow questions. He is on to something: a new vision of deploying capital in a way that might offer a true alternative to faster and faster, bigger and bigger, more and more global. I've been saying for years that we need to feed the soil, not the plant—Slow Money is about feeding the soil of the economy."

—Eliot Coleman, farmer and author of The New Organic Grower and Four-Season Harvest
"This book is an essential read for anyone who is concerned about the human condition and our planet. Few have taken the idea of walking your talk this much to its essence: all the way to where money meets the earth, so that we can begin to build a truly healthy economy."

—Mark Finser, Chair of the Board, RSF Social Finance
"Woody Tasch has been warning us for many years about the dangers of fast money, above all regarding the long term damage inflicted by short term greed. Now that the mathematical manure of maximum leverage has hit the fan of finite natural resources, he presents a compelling case for the rich compost of 'slow' money, and for investment criteria that can sustain and preserve the planet's wealth for generations to come. Indispensable reading, to be placed on the same shelf as Berry and Schumacher."

—Gregory Whitehead, Treasurer, The Whitehead Foundation
"Every once in a while, an idea comes around that you immediately know is not only a good one, but in fact is an absolutely necessary one. Slow Money is such an idea. Money is a powerful thing and whatever we collectively put our money into goes a long way toward creating the world that we live in. So far, those choices have led to many things, including a broken world food system, where nobody knows where their food comes from or what it takes to grow it. To become so divorced from something as essential as our food has had many disastrous consequences. I have great hope that sustainable, locally based food systems will help us all in more ways than we imagine. Slow Money can play a huge role in doing this and Woody's book is an inspiration to all of us working in sustainable agriculture. I can't wait to live in a world supported by Slow Money."

—Tom Stearns, President, High Mowing Organic Seeds