Edens Lost & Found
How Ordinary Citizens Are Restoring Our Great American Cities
Foreword by Van Jones

Philadelphia • Los Angeles • Seattle • Chicago
PBS Series Companion Book
Featuring Philadelphia, Chicago, Seattle, and Los Angeles
Part celebration and part inspiration, Edens Lost & Found, the companion book to the PBS series, chronicles the forward-looking transformation of America's urban landscapes and communities.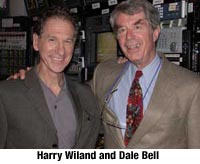 With Edens Lost & Found, award-winning filmmakers Harry Wiland and Dale Bell herald an exciting sea change in the relationship between ordinary citizens, environmental groups, and government. From across America they gather evidence of a new spirit of cooperation among neighbors, planners, architects and builders, city officials, and government agencies. Indeed, as urban issues have become undeniably urgent problems that demand answers, people from disparate backgrounds and political leanings are joining forces to recast life in American cities.
As citizens take action where government has failed, they are finding support, encouragement, and help from their neighbors. Conversely, as progressive-minded government agencies and organizations explore nontraditional solutions, an energized community rallies to the cause. Neither exclusively top-down, nor grassroots, we are in the midst of an unprecedented movement that unites efforts from every quarter in a common cause.
Focusing on Chicago, Los Angeles, Philadelphia, and Seattle—four cities that face vastly different challenges—Edens Lost & Found highlights the remarkable power of hope, pride, ingenuity, and chutzpah that characterize this era of collaboration.
Bioengineering concepts—now increasingly understood by many to offer the most effective, cost-efficient solutions—are playing a central role. Working with—rather than in opposition to—nature is leading to such innovations as rooftop and urban gardens, restored parks, transformed vacant lots, the re-greening of city streets, and eco-friendly watershed management. Edens Lost & Found shows how working to reshape the land also transforms the relationships people have to one another.
About the Edens Lost & Found Project

Edens Lost & Found is a series of PBS broadcasts focusing on the pioneering activists transforming American cities through the creation of sustainable urban ecosystems. While presenting restoration efforts in Philadelphia, Chicago, Seattle, and Los Angeles, the program serves as a springboard for awareness and participation in communities across the country.
This special initiative deals with green open space, clean air and water, alternative mass transportation, sustainable building practices, urban planning, integrated resource management, and environmental justice. Edens Lost & Found, created by Wiland-Bell Productions and the Media and Policy Center, will extend beyond the PBS broadcast and companion book to include broad outreach projects. Action guides and educational curriculum are in production. Other plans include the creation of community based coalitions, a video library for professionals, regionally televised town hall meetings, a web-accessible library of articles, links, video clips, and suggestions for "green" activities you can try at home and in your community.
(The See It On PBS logo is a trademark of the Public Broadcasting Service and is used with permission. All rights reserved.)
About the Profiled Cities
Philadelphia
Watch Promo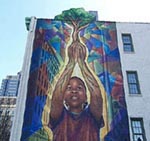 Philadelphia is a historic city responding to many challenges, including suburban development that threatened to decimate the core city. Faced with severe budget limitations (a universal reality), it created a vast network of community-based volunteer organizations who have brought about rebirth through volunteerism and community outreach.
Los Angeles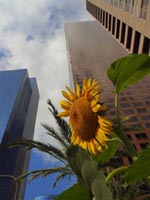 Air pollution. Mudslides. Drought. Flooding. Traffic congestion. Urban blight. Fires. Earthquakes.
Los Angeles is a sprawling metropolitan area whose pores are paved over with concrete. A thirsty city parched were it not for other people's water, obtained amid great and continuing controversy. Is it possible that this City of the Angels can tell a story to the world about environmental rebirth?
We believe the answer is a resounding Yes! For years, Los Angeles has been the laughingstock of other cities around the globe. But this is about to change in at least one key area.
Seattle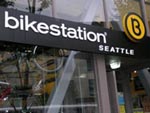 In Seattle, Edens discovered a community on the move toward creating a more "livable" city. Seattle is among U.S. pioneers of the urban sustainability movement: a widely supported effort to use new technology in pursuit of an environment that will be great to visit—and wonderful to live in—now, as well as far into the future.
Chicago
Watch Promo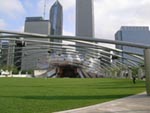 Chicago is a dynamic and fascinating city with spectacular architecture and a dramatic setting on the shores of Lake Michigan. The largest metropolis between the coasts, it has the biggest population, the most problems ... and the greatest potential.
The city is home to a number of effective community-based organizations known under the umbrella of Chicago Wilderness. The alliance is made up of 163 public and private organizations working together to study and restore, protect and manage the precious and vital natural ecosystems of the Chicago region for the benefit of the public.