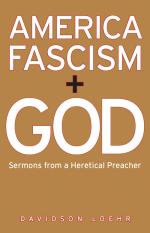 Like this book? Digg it!

Book Data
ISBN: 9781931498937
Year Added to Catalog: 2005
Book Format: Paperback
Dimensions: 5 3/8 x 8 3/8
Number of Pages: 200
Book Publisher: Chelsea Green Publishing
Old ISBN: 1931498938
Release Date: September 15, 2005
Web Product ID: 126
Also in Simple Living
America, Fascism, and God
Sermons from a Heretical Preacher
Praise
"What is the difference between Christianity and Fundamentalist Christianity? What happens when the world's most powerful government and its army are put in the hands of fundamentalist religion? Davidson Loehr tells us, with clarity and passion."

—George Lakoff, author of Don't Think of an Elephant!
"Davidson Loehr's sermons take a defiantly independent look at the mind control, environmental atrocities, media abdication, murderous imperialism, moral inconsistencies and 'gagged Savior' touted by the Christian Right and asks: Is this Christianity? Is this what Jesus asks of us? For healing, I need the mystics. But for diagnosis, this renegade Texan is an American Jeremiah."

—David James Duncan, author of The Brothers K and The River Why
"Davidson Loehr stands in the tradition of the prophets. An equal opportunity critic of both liberal and fundamentalist religion, his strong language may offend some. But his critique can help us break out of habits of thought that bind us and blind us. And he is first and foremost a pastor, calling us to avoid self-serving deceptions and reclaim an America which is for all of 'We the People.'"

—Rev. William Sinkford, Unitarian Universalist Association president
"In the days before the evangelical movement was captured by big politicians and became a critical instrument of corporate power and control, evangelicals provided the moral compass for this country, giving us leaders of the American Revolution, creating the Underground Railroad, abolitionists, and the civil rights movement. This extraordinary book by one of America's most thoughtful religious leaders reviews religion's special mission in American history and heralds the return of religion to its natural place in the moral high ground of our national politics."

—Robert F. Kennedy, Jr.
"Davidson Loehr has the integrity, wisdom and moral courage to preach the radical message of the Gospel. His voice, in our times of turmoil and distress, peals out with a heartening clarity. This book will alienate some, including those in the liberal church whose timidity he assaults, and will anger others, especially the false prophets who entice us in the name of religion to idolatry. But what he says is true. He calls us to live the moral life. He calls us to stand up for justice and tolerance in the face of growing intolerance and injustice. He reminds us that no moral stance is ever made without risk and no hope is possible without the hard, often bitter labor by men and women of faith."

—Chris Hedges, author of War Is a Force that Gives Us Meaning and Losing Moses on the Freeway: The 10 Commandments in America