A Cluckin' Good Time: Why Chickens Rule the Roost
If you've ever wondered what your life is missing, the answer is probably chickens. These feathery friends can help fertilize your soil, mow your lawn, and even lay the eggs you eat for breakfast. What could be better than that?
To celebrate our favorite member of the poultry flock we've rounded up some wisdom and content from our farming and homesteading authors who appreciate the value of the chicken. Get ready to learn a thing or two whether you've already a member of the poultry party or not.
P.S. If you want to introduce the beauty of chickens to your little flock, check out the new children's book Gwen the Rescue Hen by Leslie Crawford!
---
Take a peck at these recommended reads:
---
Egg-citing books about raising chickens:
---
For Your Little Flock: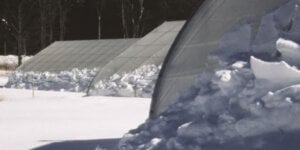 It might seem like a myth that you can grow food in an unheated greenhouse during the winter, but we're here to prove you wrong. As long as there is sunlight there are several techniques you can use to keep your crops warm enough to harvest well into the cold weather. The key? Layers. Just…
Read More