Before the WI Raw Milk Train Leaves the Station, Let's Not Forget About Protecting Protesters Like Scott Trautman

From his blog, The Complete Patient
I think it's a good thing that there's so much back-and-forth about the specifics of the Wisconsin raw milk legislation currently under consideration in the state senate. The prospect of legalizing raw milk in the nation's second-largest dairy state would probably not have gotten anywhere near this much consideration a couple years ago, so much has changed in a brief amount of time.
Photo: Wisconsin dairy farmer Scott Trautman addresses protesters outside a courthouse in Viroqua in December–an image that apparently doesn't sit well with DATCP.
Yesterday saw the politicians engaged in all kinds of horse trading—pulling out the liability exemption, making the legislation temporary, requiring farmers to keep the names of their customers. Steve Bemis of the Farm-to-Consumer Legal Defense Fund went back-and-forth with Bill Marler, the food poisoning lawyer who has a big following among regulators, to possibly eliminate some troubling language limiting milk consumption to those who purchase the milk.
But something else was going on yesterday in connection with the raw milk legislation: retribution.
Two inspectors from the Wisconsin Department of Agriculture, Trade, Consumer Protection visited the dairy owned by Scott Trautman. You may remember him.  He became an activist in the movement to legalize raw dairy sales after he came under attack by DATCP for selling raw milk, helping organize the protest on behalf of Max Kane in Viroqua in December, and then briefly chaining himself to the fence around the governor's mansion on Christmas Eve.
DATCP inspectors had given Trautman's dairy passing grades four times before last fall, as a Grade A dairy. (He lost his license last fall after he was dropped by a dairy processor. Under Wisconsin dairy rules, you lose your Grade A license if you fail to sell milk for 60 days.) Now Trautman wants to be part of the proposed new law (as well as sell cheese) that was the focus of all the horse trading yesterday, which could well be enacted and would allow Grade A dairies to sell raw milk. But yesterday, there were suddenly a number of things the inspectors didn't like about his dairy.
The big problem was that they didn't approve of his wooden milking parlor, and want him to build a new one. "Anybody sitting on ten thousand dollars to waste on closing in our beautiful parlor and making it 'safe' and 'unpleasant'?" he asks.
"Isn't it interesting," he observed to me. "I have perfect inspections in a facility signed off on by DATCP. Then I am sounding off about raw milk and suddenly I don't pass. Amazing."
DATCP is highly conflicted about the proposed legislation. I spoke with DATCP's spokesperson, Donna Gilson, Thursday morning to inquire about the agency's position on the pending raw milk legislation. "We still don't believe there's a way to produce raw milk safely," she began. Hmmm, not real positive. What about the pending legislation? "This makes it slightly less risky," she said. DATCP likes the elimination of the liability exemption, and the  requirements for testing and signage. It also approves of the collection of names of purchasers. "When there is an outbreak—you notice I don't say if there is an outbreak—this is the most efficient means for notification of people." I guess you could say DATCP will be a reluctant supporter at best of the new legislation.
But one thing DATCP has no hesitation about is payback. Once the legislation passes, it's going to be payback time for those farmers who pushed things to this point where the agency has to regulate raw milk rather than just stamp it out. DATCP just seems to have gotten going a little early with Scott Trautman.
As long as there's all this horse trading going on, here's my suggestion for an addition to the legislation: an amnesty clause. This is what typically happens when wars between countries end—everyone releases their prisoners and starts over again.
But sometimes, following a war, when the original rulers remain in place over an alienated population, there is a blood letting. The rulers tell the ruled via force: yes, you may have won the latest round in the war, but we're still in charge. And we want you to remember who is in charge.
DATCP has shown itself to be nearly obsessive when it comes to making life difficult for certain raw milk activists. Witness Max Kane. According to one media report, he appeared briefly at a Viroqua courthouse today for what was supposed to be another effort by DATCP attorneys to question him about the names of his buying group participants. He left a copy of a motion to cancel the session because he has appealed a previous order that he testify, and quickly left the courthouse.
I'd suggest that the Farm-to-Consumer Legal Defense Fund make sure that, as part of any legislation to legalize raw milk, that those farmers brave enough to challenge DATCP aren't setupon by the agency in retaliation. Even prisoners of war get protection under the Geneva Convention.
***
In New York, raw milk protesters Barb and Steve Smith of Meadowbrook Dairy are awaiting the wrath of the state's Department of Agriculture and Markets, in the wake of the agency's court victory invalidating Meadowsweet's limited liability company to distribute raw milk. In the meantime, the couple has some words of warning for Wisconsin dairy farmers:
"As we have gone through the last 3 years of trouble with Ag and Markets we have seen very clearly that their compulsive desire to control all the milk in the state means they will never allow the raw milk farmers to survive if they can help it. Their real agenda is to eliminate the existence of raw milk farming completely. We were told this years ago by our inspector at the time but didn't really believe him. Now we know he was right. As long as you have a permit you are voluntarily placing the noose around your own neck. You are agreeing that the department has the authority to come on your farm anytime, to control your farm and farm operations, to find violations, to fine you, and even to shut you down if they want. Raw milk farmers around New York who do have permits are in an almost constant struggle with the state as they are threatened with being shut down for test result violations that later prove to be in compliance afterall. And most importantly, if you do have a problem with the way they treat you, there is absolutely NO recourse! Their word is law, period. If you do not have a permit you are technically NOT under their jurisdiction, though they will try to say otherwise. And finally, if you have a permit you can ONLY sell milk on your farm and ONLY milk, no butter, yogurt or kefir."
Something to think about.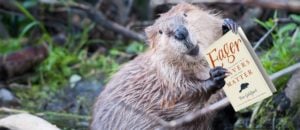 Eager: The Surprising, Secret Life of Beavers and Why They Matter has won the 2019 PEN America E.O. Wilson Prize for Literary Science Writing! A first book by journalist Ben Goldfarb, Eager has received several accolades since its release last year, including being named an Outside Magazine's "Best Book of 2018" and a "Notable Work of Nonfiction"…
Read More