I can't remember exactly when I concluded that we were living on this planet "as if we had another one to go."
We would need at least four planets if the whole world's population consumed like the average American and two if everyone consumed like the average European. Meanwhile India and China are copying our massive consumption patterns. If we want to move in a sustainable direction then something has to change. In my view, the best place to start that change is with waste. Because every day every human being on this planet makes waste. All the time that we do that we are living in a non-sustainable fashion, but with good political leadership – especially at the local level – we could be part of a movement towards sustainability. A sustainable society has to be a zero waste society.
The zero waste approach is better for the local economy (more jobs), better for our health (less toxics), better for our planet (more sustainable), and better for our children (more hope for the future).
How do we get there?
In The Zero Waste Solution I outline "Ten Steps to Zero Waste," which are essentially common sense. Most people would have little trouble dealing with the first seven steps: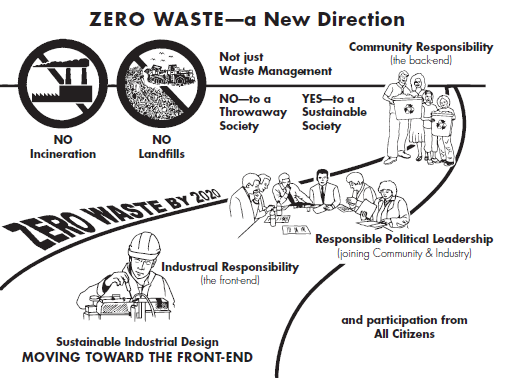 door-to-door collection

composting

recycling

reuse and repair

pay-as-you-throw systems for the residuals, and,

waste reduction initiatives at both the community and corporate level.
However, it is Step Eight where some people are going to have trouble and where, if we are not careful, the waste industry could easily co-opt all our good work.
The incineration industry has discovered that by introducing two words it can continue to insert its poisonous, polluting activities into the mix. The phrase "Zero Waste to Landfill" cynically takes the good intentions of the Zero Waste movement and moves it back in a non-sustainable direction.
Instead, step eight calls on communities to build a residual separation and research facility in front of the landfill. The point of this step is to make the residual fraction very visible as opposed to landfills and incinerators that attempt to make the residuals disappear.
It is at this facility that we have to introduce a new discipline on waste. The community has to say to industry "if we can't reuse it, recycle it or compost it, you shouldn't be making it." In other words waste is a design problem, and that is Step Nine: We need better design of both products and packaging if we are going to rid ourselves of the wretched "throwaway ethic" which has dominated both manufacture and our daily lives since WW II. We need to turn off the tap on disposable objects.
The final step is to create interim landfills — and I use interim because the goal of zero waste initiatives is to eliminate the need for traditional landfills. These interim landfills should be seen as temporary holding facilities until we can better figure out how to recycle, reuse, or better dispose of these materials than just tossing them in the ground, and capping them.
Summing it up with the Four Rs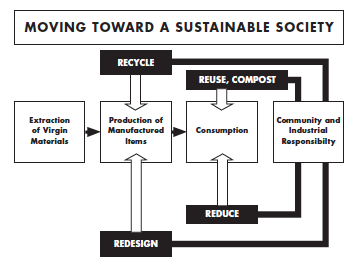 The simplest way to explain Zero Waste is that it involves four Rs. The three familiar R's of community responsibility—Reduce, Reuse and Recycle (including composting)—are joined by the less familiar "R" of industrial responsibility: Re-design.
In fact, the first person that talked about zero waste was one of the greatest designers of all time: Leonardo da Vinci. Somewhere in his writing he said that there is no such thing as waste: one industry's waste should be another industry's starting material. No doubt he was copying nature's approach to materials. Nature makes no waste; she recycles everything. Waste is a human invention. Now we need to spend some effort to "de-invent" it.
Dr. Paul Connett is the author of The Zero Waste Solution: Untrashing the Planet One Community at a Time.
---