When the poop hits the fan, you don't want to be caught with your pants down—so to speak. You'll want to have your compact emergency survival kit packed and at the ready—and as small and light as possible. That means packing only the essentials.
For more tips and advice from Stein, check out his recent appearance on FireDogLake's Book Salon, here. Author Barry Eisler hosted the online event, and Stein answered reader questions about topics such as water storage and purification.
Being prepared for the worst doesn't involve a one-shot prescription for everyone. As Mat said in response to a reader, "If you have little money, focus on skills and knowledge. If you are old and infirm, focus on friends and relationships. No one person can know, do, and have it all. Focus on that which is within your physical and financial means."
In the excerpt below, Mat Stein tells you exactly what you need in your compact survival kit.
The following is an excerpt from When Technology Fails: A Manual for Self-Reliance, Sustainability, and Surviving the Long Emergency, Revised and Expanded by Matthew Stein. It has been adapted for the Web.
Be prepared. The following basic survival kit is small enough to slip into the top pocket of a knapsack or a coat pocket. It fits into a 2-ounce tobacco tin or other small case, and its weight is hardly noticeable. Polish the inside of the case to a mirror finish for signaling. Check the contents of the case regularly, to replace items that have exceeded their shelf lives. Tape the box seams with duct tape to waterproof the container.
Matches. Fire can be started by other means, but matches are the easiest. Waterproof matches are useful, but bulkier than ordinary stick matches. You can waterproof ordinary matches by dipping them in molten candle wax. Break large kitchen matches in half to save room for more matches. Include a striker torn from a book of paper matches.
Candle. Great for helping to start a fire with damp wood, as well as for a light and heat source. Shave it square to save space in your kit.
Flint with steel striker. Flint will last long after your matches are used up. You must find very dry, fine tinder to start a fire with sparks from a flint. Solid magnesium fire-starter kits are an excellent improvement on the traditional flint with steel. Using a knife to scrape magnesium shavings from the magnesium bar, you light the shavings with a spark from the flint, and they burn hotly to easily ignite the tinder.
Magnifying glass. Useful for starting a fire with direct sunlight or for finding splinters.
Needle and thread. Choose several needles, including at least one with a very large eye, which can handle yarn, sinew, or heavy thread. Wrap with several feet of extra-strong thread.
Fishhooks and line. A selection of different hooks in a small tin or packet. Include several small, split-lead sinkers and as much fishing line as possible.
Compass. A small, luminous-dial compass (for night reading). Make sure that you know how to read it and that the needle swings freely. A string is handy for hanging it around your neck for regular reference.
Micro-flashlight. A keychain LED-type (light emitting diode) lamp, such as the Photon Microlight II. It is useful for reading a map at night or following a trail when there is no moon.
Brass wire. Three to five feet of lightweight brass wire. Wire is useful for making snares and repairing things.
Flexible saw. These come with large rings for handles that can be removed to allow it to fit into your kit. While using the saw, insert sticks through the end loops for more useful and comfortable handles. Coat the saw with a film of grease or oil to protect it from rust.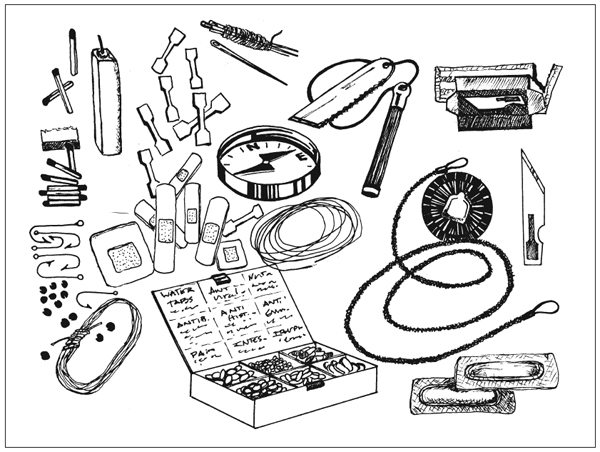 Figure 4-1. Compact survival kit.
Survival knife. For overnight backcountry travel or as part of your car kit, I would also carry a stout knife with about a 6-inch blade. If the knife has a folding blade, it should have a heavy-duty blade lock. It should be strong enough to use as a pry and to split branches and cut hardwoods without damage. You may need a knife to fabricate crude tools, such as a bow and drill for starting a fire without matches. A variety of "survival" knives are available; they are capable of cutting various materials, including thin sheet metal, and will do nicely. If the knife has a fixed blade, it should be covered in a sheath that it can't easily cut through. Some knives come with a small sharpening stone in the sheath, which is a nice feature.
Condom. When placed in a sock or other cloth for protection and support, this makes a good emergency water bottle.
Compact medical kit. Vary the contents depending on your skill and needs. Pack medicines in airtight containers with cotton balls to prevent powdering and rattling. The following list, which is a rough guide, will cover most needs.

Mild pain reliever. Pack at least ten of your favorite aspirin, ibuprofen, Tylenol, or other pain reliever.
Diarrhea medicine. Immodium is usually favored. Take two capsules initially, and then one each time a loose stool is passed.
Antibiotic. For general infections. People who are sensitive to penicillin can use tetracycline. Carry enough for a full course of 5 to 7 days. Use Echinacea or grapefruit seed extract from the health food store, if prescription antibiotics are not available.
Antihistamine. For allergies, insect bites, and stings, use Benadryl or equivalent.
Water purification tablets. Much lighter and more compact than a filter. For use when you can't boil your water.
Potassium permanganate. Has several uses. Add to water and mix until water becomes bright pink to sterilize it, a deeper pink to make a topical antiseptic, and a full red to treat fungal diseases, such as athlete's foot.
Salt tablets. Salt depletion can lead to muscle cramps and loss of energy. Carry 5 to 10 salt tablets.
Surgical blades. At least two scalpel blades of different sizes. A handle can be made of wood, if required.
Butterfly sutures. To hold edges of wounds together.
Band-Aids. Assorted sizes, preferably waterproof, for covering minor wounds and keeping them clean. Can be cut to make butterfly sutures (adapted from Wiseman 1996, 16).
---