It's barbecue season! When all your friends gather round, sip on cool beverages, and shoot the breeze. It is, in other words, the perfect time to showcase skills at the grill. And if you're choosing to grill meat this summer, instead of a veggie burger, then you might be faced with a bit of a dilemma. Do you spend the extra buck or two on free-range, grass-fed, or otherwise organically raised meat? Or save your money in support of your savings, buy the cheap brand, and in so doing support industrialized food raised in feedlots? I know, money's tighter than usual these days. But if you go with the former, you'll save money on healthcare in the end. Because while industrial feedlot meat may be cheaper, it's really bad for you. Okay, okay. barbecue season is supposed to be fun. I'm not trying to be a buzz kill, but having fun doesn't have to mean forgetting that the choices we make when it comes to food are political.
Two more things. One: Joel Salatin's Polyface Farm—one of the most influential places in the U.S., and featured in The Omnivore's Dilemma and the new film Food, Inc.—has become a key player in the food movement; his farming methods have caught the attention of media nationwide. Two: If you're a meat-eater, it's a good thing to know how-to cut up a whole chicken, especially if you're raising your own. So with these two points in mind, I ask you: is there a better way to learn how to cut up a chicken than from the man who revolutionized the way chickens were raised?
Revolutionize your barbecue season by getting to know more about your food. Start by watching this video of Joel Salatin's son, Daniel, who helps him run Polyface Farm (and no doubt learned everything from his dad). Daniel will walk you through the process of cutting up a whole chicken. Free lesson!
Watch Now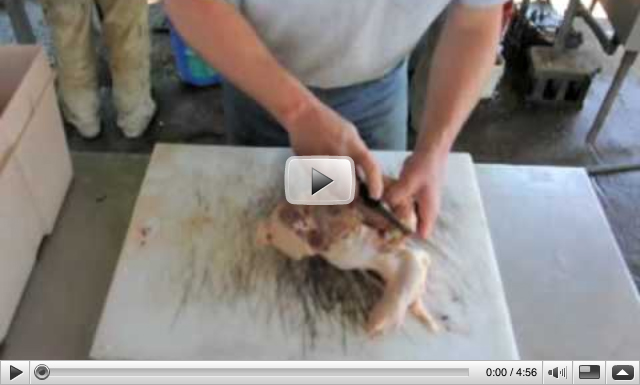 ---