The American healthcare system is broken, and Doctor Howard Dean wants to fix it. In his new book, Howard Dean's Prescription for Real Healthcare Reform: How We Can Achieve Affordable Medical Care for Every American and Make Our Jobs Safer, the former Governor of Vermont describes a practical, pragmatic approach, as proposed by President Obama during the 2008 Presidential campaign, to guarantee coverage for all.
How can we have affordable health insurance for all, with a public option that gives us the choice of keeping our private insurer if we're happy with them or switching to a streamlined, efficient government plan? How can we make sure costs are kept under control, and that all Americans have access? And how will we pay for it without racking up the deficit?
Doctor Dean answers these questions and others in this hour-long interview on C-Span's Washington Journal.

Watch It Now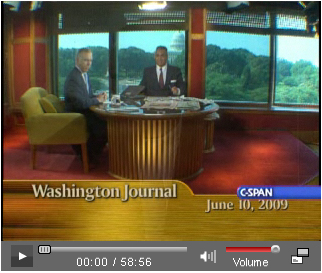 ---