Picture it: the island of Manhattan as seen from space. Rather than one rectangular island of green—Central Park—floating in an unfriendly ocean of grays and blacks, imagine that ocean dotted with thousands of smaller islands. That's right—I'm talking about rooftop gardens.
Think of the benefits. The cooling effect of a green roof means a drop in energy used for air conditioning in the summer, which means a reduced burden on the electrical grid, less fossil fuels getting used up to produce electricity, and fewer carbon emissions. It means fresh, local food right right at your doorstep (or above your head, as the case may be). And it means easing the burden on the city's sewer system during severe rainstorms: the soil will just soak it right up. Think of it as earth-sheltered housing for the inner city. You don't even have to build a new structure to do it.
BBC News sent a camera crew to New York City to film the project, headed by Lisa Goode of Goode Green.
Watch It Now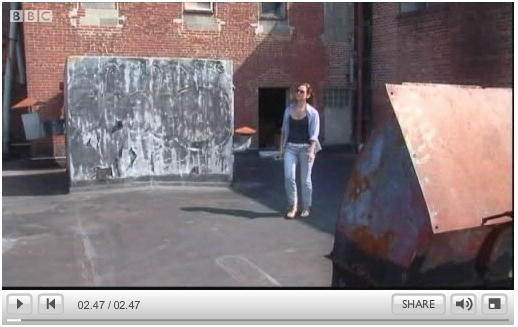 ---